Natalie Portman's Jane Got A Gun Loses Director On First Day Of Shooting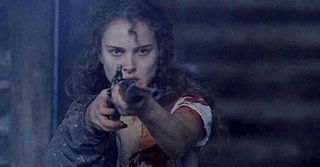 Shocking news out of New Mexico. As the cast and crew of the indie western Jane Got a Gun turned up for the first day of shooting in Santa Fe, they discovered they were without a director, as Lynne Ramsay failed to show up for work. Deadline reports the perplexing news, adding that the film's producer Scott Steindorff has confirmed formerly slated helmer Ramsay is off the project. Producers are now scrambling to find a replacement, while the cast rehearses and the crew waits.
Jane Got a Gun was meant to be Ramsay's follow-up to her critically acclaimed drama We Need to Talk About Kevin. On paper the would-be pic was looking absolutely sensational. Natalie Portman was set to star as the titular Jane, a wife who is forced to face down a vengeful gang that's on the tail of her bullet-ridden husband. To defend her land, Jane calls in a former lover, a part once set for Michael Fassbender. But just last week, there was a cast reshuffling when Fassbender stepped out over a scheduling conflict with X-Men: Days of Future Past. In his place stepped Joel Edgerton, formerly lined up to play the film's villain. And with that role open, Jude Law joined this shifting ensemble. Now Ramsay's gone, but why?
Deadline speculates "drama" took place the weekend before yesterday's shoot was meant to begin. A bitter Steindorff said of Ramsay's departure:
He went on to note that Ramsay has a pay or play deal for the film, meaning Ramsay could get her director's fee even if the movie never gets made. However, if she chose to walk away from the project of her own accord that could be a different story. Steindorff is already threatening legal action. "She was pay or play, and Marty Singer (a litigator) has been retained," he warned, "My focus is on making this movie, but I will protect all my rights. This comes down to an irresponsible act by one person."
This is a really bizarre story, and as someone who was deeply excited to see what Ramsay was going to do with this concept and cast, I'm at a loss over her abrupt and seemingly unprofessional departure. But there are two sides to every story. We expect to hear her response soon.
Staff writer at CinemaBlend.
Your Daily Blend of Entertainment News
Thank you for signing up to CinemaBlend. You will receive a verification email shortly.
There was a problem. Please refresh the page and try again.