Watch 6 Minutes From Narnia: Voyage Of The Dawn Treader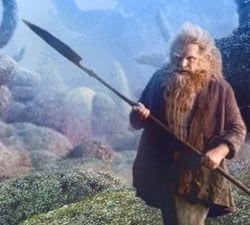 Aslan returns to theaters this week for what will almost certainly be the last Narnia adventure every to hit the big screen. Even if the film does well, the prevailing opinion in Hollywood is that this franchise has already gone as far as it can go, and there's plenty of concern that this third installment may not make much of an impact with audience. Interest has waned considerably since the first movie debuted to considerable fanfare back in 2005.
But Narnia: Voyage of the Dawn Treader is based on what may be the best book of C.S. Lewis's series and it introduces a new human character, a more realistic character, who changes the tone of the thing… in a good way… to make it more relatable to your average audience. This could easily be the best of the series and if it's the end, Dawn Treader is a great note to go out on.
Below we have five new clips from Voyage of the Dawn Treader, to give you an extended sneak peek at what you'll be in for, if you buy a ticket to Aslan's country this weekend. Watch:
First up, in this clip Narnia noobie Eustace doesn't believe in all this magic stuff, even when he's getting his ass kicked by a fanatical, talking mouse:
In which Lucy makes snow, it won't be long until she's tempted to try something else:
Meet the Dufflepuds.
Google Maps is nothing compared to Narnia Navigator:
In which Edmund gets greedy and a bad Austin Powers sequel nearly breaks out:
Just in case you missed it the first time around, here's a clip released from the film a few months ago, showing off how the kids end up back in Narnia:
For more on The Chronicles of Narnia: Voyage of the Dawn Treader, including images, trailers, and detailed info; visit the Blend Film Database.
Your Daily Blend of Entertainment News