Watch 8 Haunting Minutes Of Black Swan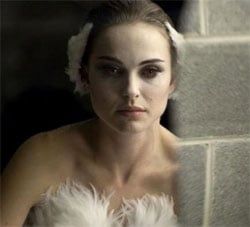 Black Swan is haunting and beautiful and strange… by now you've heard it lavished with all manner of superlatives. You'll get a few more, later today, when I finish my review of the film. But it's hard to really convey just how utterly engrossing Aronofsky's movie is. Perhaps the best way to say it is that he somehow manages to make ballet interesting. Not just the story of the dancers, but the dances themselves, even if you've never been interested in ballet before.
A lot of the credit for how good it is has to go to Natalie Portman, who doesn't just give a great acting performance, but somehow pulls off a stunningly beautiful dance performance as well. We have eight clips from Black Swan here for you, but before you watch them all, watch just this one, in which Portman begins what eventually turns into the most mind-blowing dance sequence of the entire film:
By the time the above scene happens, there's a lot more going on with Portman's ballerina character than simply the performing of a dance. You'll have to see the movie to get all of it, but you'll get a taste of all the complexity and obsession in these seven more clips from Black Swan. Watch them all below:
Black Swan opens in limited release this weekend. For more on the film, visit its page in our Blend Film Database.
Your Daily Blend of Entertainment News
Thank you for signing up to CinemaBlend. You will receive a verification email shortly.
There was a problem. Please refresh the page and try again.