Watch 8 Minutes Of Christina Aguilera's Burlesque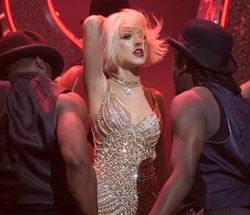 Christina Aguilera will attempt to prove she can act by bringing sexy back to the holidays with Burlesque. The story sounds pretty simple. Christina plays a small town girl trying to make it in LA by getting on stage at the Burlesque Lounge, a lounge which isn't really a Burlesque theater at all just a sort of glitzy, dancey, place where people pretend they're re-enacting scenes from Showgirls, but without all the violent nudity.
The movie opens over Thanksgiving. Strange timing for this sort of musical, and that might mean you'll be too busy looking for something you can see with granny to catch it. So while you bide your time, we have eight clips from Burlesque for you below. Watch:
A few random observations:
One-hundred percent of the songs teased in those clips use the movie's title in them. I hope that's not true of the entire movie.


We've all sort of assumed this is Christina Aguilera's movie and that Cher was just a background player, but here she almost seems like the main character with Christina as a supporting character.


I'm pretty sure Christina Aguilera's character is at least 50% Cordelia Chase in Angel Season 1. Why isn't Charisma Carpenter in this movie?
For more info, images, and video from Burlesque visit the Blend Film Database.
Your Daily Blend of Entertainment News