Watch Channing Tatum Show Off His Moves On A Magic Mike XXL Parade Float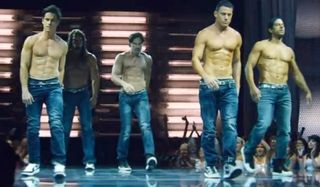 Channing Tatum and crew showed off some of their Magic Mike moves earlier today as they rode a float through the Los Angeles LGBT Pride parade. Things got pretty steamy, and though the actors, including Tatum, Matt Bomer and Adam Rodriguez did not strip down themselves, there were a group of shirtless, sexy men, showing off their abs as they all danced along. Take a look:
The announcement of the Magic Mike XXL float came hours before the start of the parade (via THR), so most attendees had no idea what they were getting themselves into, and were delightfully surprised to see a couple celebrities take center stage. Of course the excitement of seeing these surprise guests pretty much took over social media. So there's plenty of footage that can help all those Magic Mike fans feel like they were right there in the audience seeing Channing Tatum work what his mama gave him.
We've already gotten a few teases into the sequel to the the sexy stripper movie franchise, and from what the stars have claimed, it is going to be the raciest studio movie in decades. Joe Manganiello is returning to his role as Big Dick Richie. He unfortunately was not alongside co-star Channing Tatum on the gay pride parade float, but Manganiello has done his fair share of promotions for the film, claiming that the movie goes far away from 'playing it safe' and is quite progressive. And if the posters have proven anything, it's that Big Dick Richie sure ain't lying. There's going to be a whole lot of sexy stunners in this film. But in case you don't believe us, get ready for showtime…
Magic Mike XXL sees the returning stars off to Myrtle Beach as the film takes on the road trip genre. The strippers are off to the beachfront for a convention and their final dance performance. The story picks up about three years after Mike (Channing Tatum) left the world of stripping and the remaining Kings of Tampa are also on their way out. But they want one big blow-out to say goodbye. With Mike tagging the long the crew will make new friendships and renew old ones as they look to their future. The film stars Tatum, Manganiello and Bomer along with Kevin Nash, Adam Rodriguez, Gabriel Iglesias, Elizabeth banks and more. And it's scheduled to hit theaters July 1.
Your Daily Blend of Entertainment News
Your Daily Blend of Entertainment News
Thank you for signing up to CinemaBlend. You will receive a verification email shortly.
There was a problem. Please refresh the page and try again.