Watch Daisy Ridley's Intense Star Wars Audition, Understand Why She Won The Role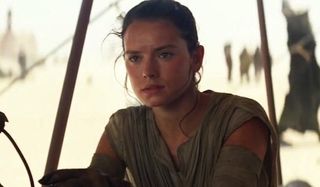 If you didn't know her name before, and let's be fair, most of us didn't, you're certainly aware of who Daisy Ridley is now after Star Wars: The Force Awakens took over the damn world and became one of the biggest movies ever released. Though she had a handful of credits on her resume before hand, primarily in TV with a few films sprinkled in for good measure, she was very much an unknown quantity. As a franchise, Star Wars has a history of casting fresh faces, and while that can be harrowing and full of problems, after you watch Daisy Ridley's intense audition tape, there's no doubt why she won the role.
It's a lot to ask of a young actor to carry an entire movie the size and scope of Star Wars: The Force Awakens, and for everything else and all the other characters and stories, the movie does really belong Daisy Ridley's solitary scavenger Rey. As you hear writer and director J.J. Abrams say in this new video that accompanies the home release, they were looking for an unknown actor who can be, "vulnerable, tough, sweet, and terrified," often at the same time. The soon-to-be-25-year-old actress certainly managed to pull that off.
One of the most intense scenes in Star Wars: The Force Awakens is the relatively small-scale moment between Rey and Adam Driver's villainous Kylo Ren. Just the two of the, she is his prisoner on the planet-sized weapon of mass destruction, Starkiller Base, and he attempts to use the Force to get into her head and find out what she knows about the whereabouts of Luke Skywalker, and probably some other stuff as well. This video shows off a very, very early iteration of that, as this is the moment J.J. Abrams chose for the audition, and from the intensity and devotion she brings, even in that preliminary stage, it's easy to see why Daisy Ridley landed the part of Rey.
For all that we know about Rey, she is still, by and large, a mystery, and since Star Wars: The Force Awakens was released, there has been a ton of speculation and questions about her swirling through the internet. What's her relationship to Luke Skywalker? Who are her parents? How did she pick up the Force so quickly and easily? These are just a few of the many, many questions people have been asking about her. Ideally, we'll hopefully find out the answers to at least some of these when the Rian Johnson-directed Star Wars: Episode VIII hits December 15, 2017.
Star Wars: The Force Awakens made more than $2 billion at the worldwide box office after it was released late last year, good enough to become the third highest grossing film of all time. That doesn't even count the myriad tie-in products and commercial partnerships Disney and Lucasfilm entered into. And as the film hits home video—it's available digitally as of today, and hits Blu-ray on April 5—that's only going to increase.
Your Daily Blend of Entertainment News
Thank you for signing up to CinemaBlend. You will receive a verification email shortly.
There was a problem. Please refresh the page and try again.