Watch Everything Wrong With The Sixth Sense In One Video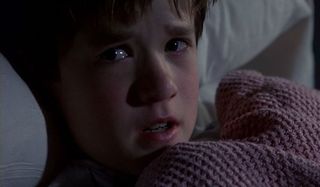 It's now become the norm to poke and laugh at anything that M. Night Shyamalan tries his hand at behind the camera. To be fair to the naysayers, that's only because he's given them plenty of ammunition. But it shouldn't be forgotten just how good his breakout Hollywood film was. In fact, The Sixth Sense is still a pop culture phenomenon to this day. That being said, there are still plenty of things wrong with it, as Cinema Sins have so helpfully noted for us.
Fair play to the good folks over at Cinema Sins, because while they were able to spot quite a number of flaws and errors with the film, they were also able to admit that it still deserves mad props for its revelations and spooky set-ups.
Within the video, they make the very valid point that The Sixth Sense probably wouldn't get made today. Not only because M. Night Shyamalan's career is currently in a slump – more of that later – but because we have to wait 50 minutes to actually get to the jist of the plot.
Not that that's a bad thing though. In fact, It really is easy to forget how good The Sixth Sense is. Okay, it might falter with additional viewings as you become more and more obsessed with spotting how Shyamalan tricked you the first time round, but it is still undeniably spooky and compelling, while also featuring a stellar all round cast.
Heck, even Donnie Wahlberg, who is the man responsible for gunning down Bruce Willis' Dr. Malcolm Crowe at the start of The Sixth Sense, before then turning the gun on himself, excels. But just about managing to wrestle the attention away from the founding member of New Kids On The Block is the leading quartet of Bruce Willis, Haley Joel Osment, Toni Collette, and Olivia Williams.
Hayley Joel Osment and Toni Collette would even go on to be nominated for Academy Awards in the Best Actor and Best Supporting Actress categories, while despite overseeing The Happening and Last Airbender, M. Night Shyamalan will always be able to tell the world that he's a two-time Oscar nominee.
As we all know, the last few years haven't been great to the writer/director – with titles like The Lady In The Water, The Happening, The Last Airbender, and After Earth all doing their part to irretrievably damage his career. However, The Visit, which is due out later this month, is rumored to repair some of this damage, with many already calling it one of the scariest films of the year. We'll see if that's the case when The Visit is released on September 11th.
Your Daily Blend of Entertainment News
Thank you for signing up to CinemaBlend. You will receive a verification email shortly.
There was a problem. Please refresh the page and try again.