The Visit Trailer: This Might Be M. Night Shyamalan's Weirdest Movie Yet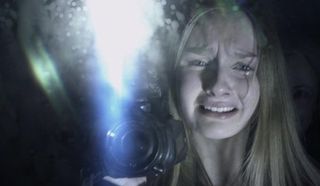 M. Night Shyamalan has had a weird career. He's experienced incredible highs with movies like The Sixth Sense, but he's fallen so far from grace that he wasn't even mentioned in the promotion for his last movie, After Earth (his name only appeared on the poster really small and in the corner). A new trailer for his latest, the thriller The Visit, just dropped, and it is a strange looking thing to behold. Check it out for yourself.
Shyamalan's name is all over this trailer, so they're definitely not shying away from his involvement, but watching this video, it feels more like the Blumhouse Productions movie that it is. The producers behind low-budget horror hits like Paranormal Activity, Insidious, and The Purge, their fingerprints are all visible all over the place, from the general aesthetic to the found footage (at least in large part, I can't tell if it's all that way) approach.
This does, however, have elements reminiscent of a modern day fairy tale—that scene of the grandmother asking the young girl to get in the oven is straight out of Hansel and Gretel, all she needs is a house made of sweet treats. That part is definitely right up Shyamalan's alley, and gives this the potential to be a kind of synthesis of the no-frills horror of Blumhouse and Shyamalan's sense of magical realism.
The Visit tells the story of a young brother and sister (Ed Oxenbould and Olivia DeJonge) who visit their grandparents (Peter McRobbie and Deanna Dunagan) for a week at their remote Pennsylvania farm. At first they think their grandparents are weird, because all kids think their grandparents are weird, but it turns out that there is something much more sinister going on. Apparently their rule about not coming out of your room after 9:30 pm is about more than the old couple liking to hit the hay early.
The Visit was originally titled Sundowning, which is a bit unusual, but way more interesting than the generic moniker the movie boasts now. It's not bad, it's just not particularly interesting, and it also happens to be the name of a documentary about how government agencies plan to deal with our first encounter with alien life that comes out this year.
Because this is an M. Night Shyamalan joint, many viewers are going to spend most of the movie waiting for a sudden twist, the narrative technique that he is so known for. I don't know if there's one or not, but if there is, I have an idea of what it may be. The grandparents extended the invitation to the kids, and since there's a boy and a girl, my theory is that they're involved in some kind of occult business and the older couple plans to somehow take over the younger bodies to extend their lives. This is all wild, rampant speculation on my part, but given Shyamalan's track record, it's not outside the realm of possibility.
We'll see how accurate my prediction is when The Visit hits theaters on September 11.
Your Daily Blend of Entertainment News
Your Daily Blend of Entertainment News
Thank you for signing up to CinemaBlend. You will receive a verification email shortly.
There was a problem. Please refresh the page and try again.