Watch Jim Carrey Shoot Lasers Out Of His Super Suit In Dumb And Dumber To Clip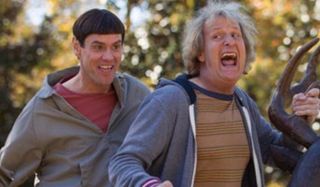 A new TV spot has been released for Dumb And Dumber To, and it is not only packed with new gags, it also gives us a look at Jim Carrey's Lloyd Christmas wearing a rather sparkly new suit that just so happens to be able to fire lasers. You can check out the clip above.
What did you think? It certainly possesses some laughs, but judgement on the hugely anticipated sequel is still definitely being reserved until it finally hits cinemas on November 14. Of course, there is no denying the fact that Carrey and his co-star, Jeff Daniels (who will reprise the character of Harry Dunne) have clearly stepped back into the shoes of their preposterously stupid characters with ease. But will the script, which has been written by Mike Cerrone, the Farrelly Brothers, and Sean Anders, be up to scratch? Anders has previously only scribed below average comedies like Sex Drive, Hot Tub Time Machine, She's Out Of My League and We're The Millers, as well as directing the criminally offensive, That's My Boy. Plus, Bobby and Peter Farrelly haven't had a critical hit since 1998's There's Something About Mary, which suggests that Dumb And Dumber To will ultimately disappoint.
Back to the new trailer. While the bike attached to the bus rack while Lloyd and Harry still try to peddle gag was a bit flat and lame, I do have to admit that I emitted a brief chortle when Harry told Lloyd to "check out the hotties at 12 o'clock," only for his pal to respond, "That's three hours away. Why can't I check them out now?"
Other than that, I was quite surprised at how stale a number of the jokes that I had already heard were, even though I've only seen the original trailers maybe once or twice before. This, of course, is a worrying sign. But the sheer amount of gags that Dumber And Dumber To is bound to possess means that some of them must land. Plus, it will be good to catch-up with the lovably dim-witted characters after all these years.
The fact that the comedy landscape is now completely different to when the first film came out could either work in this film's favor, or completely scupper its success. Audiences might lap up this reunion with aplomb, as it has already set out its stall to be as stupid as it can possibly be while squeezing in as many gags as possible. Or they might simply decide that Lloyd and Harry's time is long-gone, and that they're now only interested in less absurd, more-character driven comedy.
Early reviews and the reaction to preview screenings has reportedly been positive, so there's still hope that Dumb And Dumber Towon't wreck Harry and Lloyd's legacy after all. We'll just have to wait and see.
Your Daily Blend of Entertainment News