Watch This NSFW Montage Of Hollywood's Steamiest Sex Scenes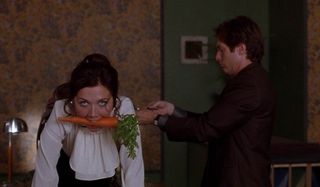 Hollywood loves its sex scenes. Pretty much every other movie that is released includes one. But what are the steamiest sex scenes in the history of celluloid? Well, the good people over at CineFix have gone the extra mile this Valentine's Day by picking out their favorites. Check out their choices below. Warning this is NSFW. And to helps those of you who are internet illiterate, that stands for Not Safe For Work. Enjoy.
Is there a better way to brighten up your Wednesday than enjoying an 11-minute video of what is basically softcore pornography? If there is, I don't want to know about it. With credit to CineFix, they didn't just go for the most obvious and celebrated sex scenes in movie history. Each of their picks is, for the most part, extremely different from the last, while an eclectic array of erotic moments are honored and it's thoroughly explained why each of them were chosen. CineFix's top spot was taken up by Nicholas Roeg's hauntingly brilliant Don't Look Now, which sees a back and forth of Donald Sutherland and Julie Christie both making love and walking around and talking afterward. It's poignant, realistic, bold, artsy and truly original. But what else made up CineFix's list?
North By Northwest takes the number two slot, and even though it is far from explicit, it deserves recognition for its symbolism. Alfred Hitchcock uses a jump cut that takes viewers from the film's thrilling finale on Mount Rushmore to its denouement on a train carriage - before then using the final shot to imply that Cary Grant and Eva Marie Saint's characters are about to have sex. He does this by having them kiss for two seconds and then cutting to a train going through a tunnel. If you don't know what the latter implies, you should go and ask your parents and probably shouldn't have watched the video up top.
Quick warning for number three: it's from Gone Girl and will spoil the film if you haven't seen it. So if you fit that particular bill you should probably skip ahead to number four on the list. All good? Okay. Rosamund Pike and Neil Patrick Harris' kinky sex scene that ends up in his murder from Gone Girl is a surprising but belting choice. And while it deserves to be lauded just for how fucked up it is, it is also a perfect example of what makes David Fincher arguably the best filmmaker in the world right now. The framing, pacing, lighting and editing combine to seamlessly to create a truly scintillating slice of cinema.
Number four on the list is a great inclusion simply because it celebrates one of the most weird and wonderful sex scenes that Hollywood has produced. Just eclipsing titles likeShame, Crash, A History Of Violence, and Boogie Nights is Secretary, which celebrated a BDSM relationship long before E.L. James had even read Twilight - and did so in a tense, sexy and dynamic fashion.
In fifth is Eyes Wide Shut's orgy, which was decadently shot by the always-masterful Stanley Kubrick and centers a stern-yet-vulnerable performance from Tom Cruise - even though his face is completely covered throughout. That film was preceeded on teh list by the love scene between Jon Voight's paraplegic character and his nurse, played by Jane Fonda in Coming Home - which was way ahead of its time but is still just as evocative and sensitive today.
CineFix made sure not just to celebrate male on female relationships, as Weekend's tender and non-judgemental male-on-male sex scene and Blue Is The Warmest Color's delightfully shot and intimate lesbian dalliance took up positions eight and seven, respectively, on the list.
It wouldn't have been right if CineFix didn't find room for Trey Parker and Matt Stone's ingenious celebration of doll on doll action in Team America: World Police - even if the fact that it came (pun most definitely intended) in ninth place is an obvious oversight. Finally, capping off CineFix's Top 10 list is the famously steamy scene from James Cameron's Titanic - and as anyone who was a teenager in 1997 can attest to, this scene more than deserves to be included. Even if the rest of the film is a bloated, overly melodramatic, preposterously self-indulgent monstrosity.
So, there you have it. If you found CineFix's Top 10 Sex Scenes of All Time to be tamer than you anticipated then may I suggest that you head out in the merry world of the internet to find a barrage of other scenes that will probably be more in line with what you are after. They probably won't push the cinematic envelope quite as much as these films did, though.
Your Daily Blend of Entertainment News