How Neil Patrick Harris Gets His Penis Ready For Nude Scenes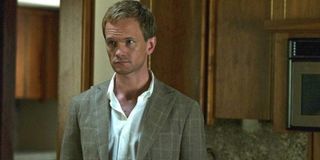 Neil Patrick Harris has been discussing his nude scene in David Fincher's Gone Girl and he's revealed that he has a unique method for preparing his manhood before he steps in front of the camera in his birthday suit: the windmill.
Neil Patrick Harris made the revelation during his appearance on Conan O'Brien's talk show, Conan, explaining that he developed his technique alongside his How I Met Your Mother co-star, Josh Radnor, whom with he starred on the hugely popular sitcom for 9 years. According to Harris, the pair worked together in a play in Los Angeles titled, The Paris Letter, where they played lovers, and one scene saw them both walk out in the nude. To get ready for the scene, Harris admitted that before they went on stage they used to perform the "windmill" and the "helicopter" with their penises to get them into shape. I won't explain what either of these gestures are. Instead, if you don't know what they are, I'll leave you to peruse the internet for the literally hundreds of thousands of examples that are out there. The actor then went on to add that they did it in order to "make sure it was looking good."
Neil Patrick Harris' penis discussion didn't stop there, though. In fact he had plenty more to say about his mind-set before he shoots his nude scenes. He noted that he often wants to just give audiences a "hint of the wang" rather than "a long moment with" it, before explaining that he doesn't have a problem with people seeing his rear-end. He did go on to concede that it is always really weird that the film's crew have to spend their working day looking at his butt though.
For Gone Girl, his sex-scene with Rosamund Pike actually took "two days straight" to shoot, which means that David Fincher's reputation as one of the most meticulous directors to ever step behind the camera clearly extends to sex scenes too. But Neil Patrick Harris went on to declare that his main concern while working in this scantily clad environment was for his co-star.
Of course, he then also immediately added that we wanted "to make sure no-one saw [his] wang."
To watch the full interview with Neil Patrick Harris on Conan and hear his thoughts on this very serious topic , head over to Page Two!
Your Daily Blend of Entertainment News