Watch This Random Guy Tell People He Won An Oscar, Get Kisses And Free Stuff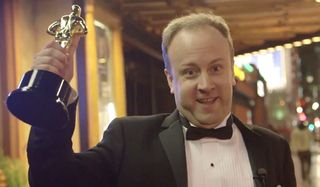 Apparently when you win an Oscar you also get a large bottle of orange Gatorade and a "pleasure pack" of condoms as added perks. On the night of the glamorous awards ceremony, one guy was out on the streets of Hollywood dressed in a tux and armed with a fake Academy Award to fool pedestrians, movie theater attendants and a cashier at a nearby Deli. As it turns out, it's really easy to fool everyone around you in believing you won an Oscar — especially since none of them actually watched the ceremony on TV.
Mark David Christenson of New Media Rockstars pulled off this incredible Oscar prank. He and his team even created a fake video of himself addressing press after his alleged Oscar win just in case any strangers questioned him further. But he didn't use it. Not only did he fool everyone around him as he walked down the street, posing with strangers as he went, he also got a ton of free stuff.
Aside from his glamorous goodie bag of Gatorade and condoms, he also got a free ticket from a movie theater, he received free appetizers and bourbons (that's glasses of bourbon plural) from an oblivious bartender, he was able to walk through restricted areas, and he got into an exclusive Oscar party at the Roosevelt Hotel. One woman even said, "I saw your movie!" Much like Jimmy Kimmel's beloved "Lie Witness News," this hysterical Oscar prank revealed the many phonies of Hollywood…but all in good fun.
The best part about this whole thing, though, has to be how some idiots manning the valet gave Christenson a free car. He just waltzed right up to them swinging his statuette — which, again, was totally fake — and these guys gave him one, no questions asked. There was some hesitation, but they eventually complied with his request after about four minutes. "I did have to give that car back," he said, "but it still amounted to an amazing night."
Not to be catty or anything, but we wish we had watched this instead of the actual Oscars ceremony. Neil Patrick Harris is a national treasure, but that was such a dull show. Yes, there were some surprises, like Birdman's Best Director and Best Picture wins, and Whiplash's multiple honors. And yes, the musical performances were phenomenal, including Lady Gaga's Sound of Music tribute and Common and John Legend's stirring rendition of "Glory." But this Oscar prank video had way more spunk and personality. Everyone loves to watch innocent people get punked.
Your Daily Blend of Entertainment News
Thank you for signing up to CinemaBlend. You will receive a verification email shortly.
There was a problem. Please refresh the page and try again.