Watch Lady Gaga Deliver A Stunning Tribute To Sound Of Music At The Oscars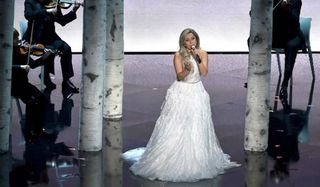 It's been fifty years since The Sound Of Music first hit cinemas and instantly blossomed into a classic. The Academy Awards decided to acknowledge just how integral The Sound Of Music has been to the world of cinema at the ceremony on Sunday with a stirring tribute. And they got Lady Gaga in to sing a montage of songs from the film, because – well, why the hell not? You can check out Lady Gaga in her element below.
Say what you want about Lady Gaga, but the gal simply oozes charisma and presence. Plus she also doesn't have half a bad voice too. After being introduced by Scarlett Johansson, and accompanied by a melee of musicians on a barren stage, she was allowed to simply fill the screen and arena with her voice. Lady Gaga strolled on stage and then belted out the titular song in a rather sensational fashion. OK, she might have paled in comparison to the woman who made the film and song famous. But you really can't hold that against her because after all there is, and always be, only one Julie Andrews.
After dropping "The Sound Of Music" in imperious fashion, Lady Gaga seamlessly went into "My Favorite Things" too and you could almost hear all of the naysayers instantly being won over. But things were able to get a whole lot more emotional. Because Julie Andrews herself then walked out on stage to share a hug with Lady Gaga, as the crowd rose to their feet in appreciation. Lady Gaga was almost overwhelmed by the appearance of the perpetually beautiful Andrews, and you could hear that her voice was wrought with emotion when she introduced her to the Oscars gathered masses.
Oh yeah, Andrews was also there to hand out the Best Original Score gong too, which went to The Grand Budapest Hotel's Alexandre Desplat. And even though I have to admit that I was hugely disappointed not to see Hans Zimmer pick up the award for his sterling and beautiful work on Interstellar, even though the film itself is hugely flawed, seeing Julie Andrews more than made up for it. Now, let's all go and watch The Sound Of Music and rejoice in its brilliance.
Your Daily Blend of Entertainment News
Your Daily Blend of Entertainment News
Thank you for signing up to CinemaBlend. You will receive a verification email shortly.
There was a problem. Please refresh the page and try again.