Weekend Box Office: Alex Cross Bombs And Paranormal Activity Plummets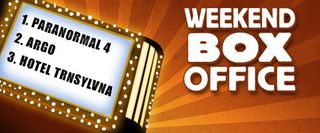 The current reigning Halloween movie series, Paranormal Activity, released the its fourth entry this weekend but, despite taking the number one spot, suffered a major set back for the franchise.
Following the original Paranormal Activity's incredible run, The second and third entries went on to debut with $40 million and $52 million respectively. Paranormal Activity 4 bowed in with just $30 million, little more than half the third movie's opening take. Don't start celebrating an end to the franchise just yet, though. Even with a diminshed opening weekend the movie still turned a massive profit on its relatively tiny $5 million budget.
Tyler Perry finally decided to act in something other than his own films. His starring role in Rob Cohen's thriller Alex Cross didn't do much good for its box office performance though. The movie only took in $5 million against a $35 million budget, settling for a disappointing fifth place.
Argo held on strong, dropping only 15% from last weekend and taking the second place spot with $16 million. Hotel Transylvania also held on well, slipping just 22%. That helped to move it back into third place ahead of Taken 2 which dropped from first place last week to fourth place this weekend.
For the full weekend top ten break down, check out the chart below:
1.

Paranormal Activity 4 *
$30,200,000
Total: $30,200,000
LW: N WR: 1
THTRS: 3,412
2.

Argo
$16,625,000
Total: $43,191,000
LW: 2 WR: 2
THTRS: 3,247
3.

Hotel Transylvania
$13,500,000
Total: $119,000,000
LW: 4 WR: 4
THTRS: 3,014
4.

Taken 2
$13,400,000
Total: $105,971,000
LW: 1 WR: 3
THTRS: 3,489
5.

Alex Cross *
$11,750,000
Total: $11,750,000
LW: N WR: 1
THTRS: 2,539
6.

Sinister
$9,030,000
Total: $31,950,000
LW: 3 WR: 2
THTRS: 2,542
7.

Here Comes the Boom
$8,500,000
Total: $23,200,000
LW: 5 WR: 2
THTRS: 3,014
8.

Pitch Perfect
$7,009,000
Total: $45,769,000
LW: 6 WR: 4
THTRS: 2,660
9.

Frankenweenie
$4,434,000
Total: $28,343,000
LW: 7 WR: 3
THTRS: 2,362
10.

Looper
$4,200,000
Total: $57,800,000
LW: 8 WR: 4
THTRS: 2,223
Your Daily Blend of Entertainment News
Thank you for signing up to CinemaBlend. You will receive a verification email shortly.
There was a problem. Please refresh the page and try again.