Weekend Box Office: The Conjuring Scares Up Big Number One, R.I.P.D. is D.O.A.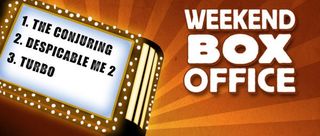 With four new wide-release entries in theaters this weekend audiences had plenty of options to choose from, but pickings were slim for the movies themselves as the competition lead to just real one box office winner.
Supernatural thriller The Conjuring dominated, staking out an easy number one spot with a healthy $41 million debut. That total is the highest ever for a non-sequel rated-R movie of its genre, not to mention nearly double the movie's reported $20 million production budget. That's a nice little win for Warner Brothers, who are still reeling from the low response to last weekend's Pacific Rim. Thanks to international sales the summer kaiju flick just might end up not being a financial write off, but its still a low blow for what was pegged to be one of the summer's biggest blockbusters.
Despicable Me 2 dropped to second place, but with a healthy third weekend $25 million take it still out paced DreamWorks' animated feature Turbo. Cash is flowing in at a snail's pace for that movie, with just $21 million banked over the weekend, and only $31 million since an early Wednesday opening. Turbo's disappointing debut is one of the worst for DreamWorks and is only the latest disappointment in what has been a hit and miss run for the studio over the last few years.
Action comedy sequel Red 2 faltered, earning a fifth place spot with $18 million. That's a drop from the $21 million that Red took in its opening weekend in 2010.
The biggest loser this weekend was R.I.P.D. which arrived DOA in theaters with just $12 million. After taking a beating from critics, the supernatural action comedy got hammered with a seventh place opening and a grim outlook given its $130 million production budget.
Kristen Wiig's new comedy Girl Most Likely and Ryan Gosling's latest drama Only God Forgives both debuted in very small release, but fared well with 736,000 and $315,000 respectively.
For the full weekend top ten, check out the chart below:
1.

The Conjuring *
$41,530,000
Total: $41,530,000
LW: N WR: 1
THTRS: 2,903
2.

Despicable Me 2
$25,059,000
Total: $276,159,000
LW: 1 WR: 3
THTRS: 3,820
3.

Turbo *
$21,500,000
Total: $31,203,000
LW: N WR: 1
THTRS: 3,806
4.

Grown Ups 2
$20,000,000
Total: $79,500,000
LW: 2 WR: 2
THTRS: 3,491
5.

Red 2 *
$18,500,000
Total: $18,500,000
LW: N WR: 1
THTRS: 3,016
6.

Pacific Rim
$15,955,000
Total: $68,235,000
LW: 3 WR: 2
THTRS: 3,285
7.

R.I.P.D. *
$12,763,000
Total: $12,763,000
LW: N WR: 1
THTRS: 2,852
8.

The Heat
$9,325,000
Total: $129,292,000
LW: 4 WR: 4
THTRS: 2,689
9.

World War Z
$5,200,000
Total: $186,941,000
LW: 7 WR: 5
THTRS: 2,066
10.

Monsters University
$5,005,000
Total: $248,998,000
LW: 6 WR: 5
THTRS: 2,186
Your Daily Blend of Entertainment News
Thank you for signing up to CinemaBlend. You will receive a verification email shortly.
There was a problem. Please refresh the page and try again.