Weekend Box Office: Expendables 2 Takes Number 1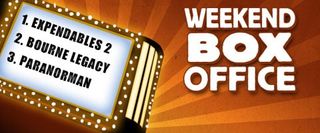 This weekend The Expendables 2 crashed onto the scene, and while it took the number one spot out from under The Bourne Legacy it didn't bring any box office explosions.
With a $28 million debut the second gathering of Hollywood's favorite aging action stars fell short of its predecessor. The original Expendables opened in Summer 2010 at $34 million.
The Bourne Legacy slipped around 55% to take second place with $17 million. That was just enough to stay ahead of the $14 million debut for stop motion animated ParaNorman. Despite being hailed as a superior effort, ParaNorman fell short of Laika studio's previous stop motion entry Coraline which bowed in at almost $17 million in early 2009. It raises the question whether or not the gamble to offer up ParaNorman during the summer instead of closer to Halloween paid off.
The posthumous release of Whitney Houston's Sparkle landed a tarnished debut, taking fifth place with just $12 million. The unimpressive total was still enough to promise some profit to the studio which bankrolled the movie for just $14 million plus marketing.
Heartstring-plucking The Odd Life of Timothy Green, the fourth newcomer this weekend, settled for seventh place taking in $10 million
In its fifth weekend The Dark Knight Rises crossed the $400 million threshold, joining an elite group of just fifteen movies to ever reach that mark. Currently at $409 million domestic, the movie is just $13 million away from breaking into the top ten all time top domestic earners.
For the full weekend top ten, check out the chart below:
1.

The Expendables 2 *
$28,750,000
Total: $28,750,000
LW: N WR: 1
THTRS: 3,316
2.

The Bourne Legacy
$17,020,000
Total: $69,581,000
LW: 1 WR: 2
THTRS: 3,753
3.

ParaNorman *
$14,008,000
Total: $14,008,000
LW: N WR: 1
THTRS: 3,429
4.

The Campaign
$13,385,000
Total: $51,694,000
LW: 2 WR: 2
THTRS: 3,255
5.

Sparkle (2012) *
$12,000,000
Total: $12,000,000
LW: N WR: 1
THTRS: 2,244
6.

The Dark Knight Rises
$11,140,000
Total: $409,916,000
LW: 3 WR: 5
THTRS: 3,157
7.

The Odd Life of Timothy Green *
$10,909,000
Total: $15,187,000
LW: N WR: 1
THTRS: 2,598
8.

Hope Springs
$9,100,000
Total: $35,051,000
LW: 4 WR: 2
THTRS: 2,361
9.

Diary of a Wimpy Kid: Dog Days
$3,850,000
Total: $38,762,000
LW: 6 WR: 3
THTRS: 2,737
10.

Total Recall (2012)
$3,500,000
Total: $51,782,000
LW: 5 WR: 3
THTRS: 2,434