Weekend Box Office: Gone Girl And Annabelle Neck And Neck At Top Of The Chart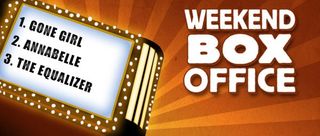 It was a good weekend for director David Fincher and his leading man Ben Affleck. Not only was their new movie Gone Girl number one this weekend, it banked a total that is one of the highest for each.
Gone Girl's $38 million debut is the highest ever for Fincher whose previous top opener was Panic Room which opened with $30 million back in 2002. Affleck hasn't has a movie break opening weekend past $30 million since Daredevil earned $40 million in 2003.
Horror flick Annabelle took a very narrow second place with $37 million. That's a solid come back for director John Leonetti whose last notable contribution to cinema was 1997's Mortal Combat: Annihilation. While not largely likely, with less than $1 million separating them it's not impossible for Annabelle to slip into number one with actual numbers replace estimates tomorrow.
In the early 2000's Cloud Ten Pictures pushed their DVD release Left Behind into theaters with a financially dismal outcome. This year Freestyle Releasing decided to go direct to theaters with a Nic Cage driven remake with only slightly better results. It opened this weekend in sixth place with $6 million against a reported $16 million production budget. It's unlikely to turn profitable in theaters, but religious audiences may help make up the difference in home video sales.
For the full weekend top ten, check out the chart below:
1.
Gone Girl *

$38,000,000Total: $38,000,000LW: N
THTRS: 3,014
2.
Annabelle *

$37,200,000Total: $37,200,000LW: N
THTRS: 3,185
3.

The Equalizer
$19,000,000
Total: $64,500,000
LW: 1
THTRS: 3,236
4.
The Boxtrolls

$12,425,000Total: $32,539,000LW: 3
THTRS: 3,464
5.
The Maze Runner

$12,000,000Total: $73,921,000LW: 2
THTRS: 3,605
6.

Left Behind (2014) *
$6,850,000
Total: $6,850,000
LW: N
THTRS: 1,825
7.
This is Where I Leave You

$4,000,000Total: $29,003,000LW: 4
THTRS: 2,735
8.
Dolphin Tale 2

$3,530,000Total: $37,974,000LW: 5
THTRS: 2,790
9.
Guardians of the Galaxy

$3,034,000Total: $323,360,000LW: 8
THTRS: 1,894
10.

No Good Deed (2014)
$2,500,000
Total: $50,157,000
LW: 6
THTRS: 1,580