Weekend Box Office: Guardians Of The Galaxy Blows Away August Opening Record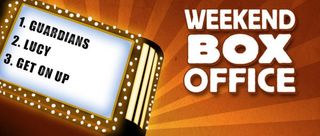 August is usually the lame second cousin of the summer blockbuster season. All the really major entries get released in May through July. Maybe Buena Vista was a little hesitant about how well received Guardians of the Galaxy would be when they chose to launch it in August, but the comic blockbuster saw a massive opening, shattering the current August opening record.
At $94 million, the debut is only the third highest opening of the year so far (behind Transformers: Age of Extinction's $100 million and Captain America: The Winter Soldier's $95 million) but it topped the previous August record of $69 million set by The Bourne Ultimatum in 2007.
James Brown biopic Get On Up opened under Guardian's huge shadow, settling in at number three with $14 million. That's a modest debut compared to the similar Ray Charles bio flick Ray which opened a decade ago in October but still managed a $20 million opening weekend.
For the full weekend top ten, check out the chart below:
1.
Guardians of the Galaxy *

$94,000,000Total: $94,000,000LW: N
THTRS: 4,080
2.
Lucy

$18,283,000Total: $79,571,000LW: 1
THTRS: 3,202
3.
Get On Up *

$14,031,000Total: $14,031,000LW: N
THTRS: 2,468
4.
Hercules (2014)

$10,700,000Total: $52,348,000LW: 2
THTRS: 3,595
5.
Dawn of the Planet of the Apes

$8,700,000Total: $189,330,000LW: 3
THTRS: 3,283
6.
Planes: Fire & Rescue

$6,424,000Total: $47,596,000LW: 5
THTRS: 3,241
7.
The Purge: Anarchy

$5,551,000Total: $62,962,000LW: 4
THTRS: 2,656
8.
Sex Tape

$3,550,000Total: $33,908,000LW: 6
THTRS: 2,500
9.
And So It Goes

$3,344,000Total: $10,473,000LW: 8
THTRS: 1,816
10.

A Most Wanted Man
$3,324,000
Total: $7,059,000
LW: 10
THTRS: 729
Your Daily Blend of Entertainment News
Thank you for signing up to CinemaBlend. You will receive a verification email shortly.
There was a problem. Please refresh the page and try again.