Weekend Box Office: Hotel Transylvania Arrives Early, Breaks Records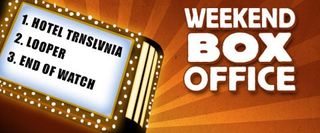 September's a slow month at the box office. The biggest September weekends are still smaller than major days in the cash heady months of summer and Christmas. But, once in a while something comes along in September that draws a crowd and this year Halloween came early to give the sleepy month a little boost.
Hotel Transylvania, realizing that all the most successful commercial markets start decorating for Halloween way too early, bowed in well ahead of its matching holiday to the tune of $43 million. That would ordinarily be a decent debut for an animated feature, but it's a record breaker for September.
It supplanted previous month champ Sweet Home Alabama which took in $35.6 million ten years ago.
While great news for Sony Pictures Animation, is it good news for audiences? Hopefully this won't lead to the same kind of holiday creep that has Wal Mart putting out the skulls and pumpkins the day after Labor Day. I enjoy a good Halloween movie, but that's what the end of October is for.
The movie also marks the highest opening for Sony Pictures Animations, whose previous entries The Smurfs and Cloudy with a Chance of Meatballs both failed to break the $40 million debut mark.
Sci-Fi action flick Looper took a distant second place with $21 million, one of Bruce Willis' higher debuts in the last ten years.
The big per-theater winner in this weekend's top ten went to Pitch Perfect which opened in just 335 venues but still took sixth place, banking a solid $5 million for $15,000+ per screen (for comparison, Hotel Transylvania topped out at $12,840 each).
Meanwhile the fourth new movie this weekend, Won't Back Down, barely eeked out tenth place with just $2.7 million. It knocked out on of the year's bigger box office losers, Dredd which dropped clean out of the top ten in its second weekend and which has currently earned just $20 million world-wide against its $50 million budget.
1.

Hotel Transylvania *
$43,000,000
Total: $43,000,000
LW: N WR: 1
THTRS: 3,349
2.

Looper *
$21,200,000
Total: $21,200,000
LW: N WR: 1
THTRS: 2,992
3.

End of Watch
$8,000,000
Total: $26,169,000
LW: 1 WR: 2
THTRS: 2,780
4.

Trouble with the Curve
$7,530,000
Total: $23,726,000
LW: 3 WR: 2
THTRS: 3,212
5.

House at the End of The Street
$7,154,000
Total: $22,225,000
LW: 2 WR: 2
THTRS: 3,083
6.

Pitch Perfect *
$5,200,000
Total: $5,200,000
LW: N WR: 1
THTRS: 335
7.

Finding Nemo (3D)
$4,066,000
Total: $36,475,000
LW: 4 WR: 3
THTRS: 2,639
8.

Resident Evil: Retribution
$3,000,000
Total: $38,700,000
LW: 5 WR: 3
THTRS: 2,381
9.

The Master
$2,745,000
Total: $9,633,000
LW: 7 WR: 3
THTRS: 856
10.

Won't Back Down *
$2,700,000
Total: $2,700,000
LW: N WR: 1
THTRS: 2,515
Your Daily Blend of Entertainment News
Thank you for signing up to CinemaBlend. You will receive a verification email shortly.
There was a problem. Please refresh the page and try again.