Weekend Box Office: Mockingjay Part 2 Holds First Place For Thanksgiving Holiday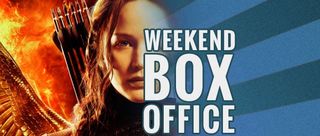 This Thanksgiving ended up looking a lot like last year: a Mockingjay movie taking first place for the second weekend in a row, followed by new releases of an animated feature and a sequel no one really wanted but people went to see anyway.
The Hunger Games: Mockingjay - Part 2 dropped a not unusual 50% this weekend, but that was enough to hold on to the box office top spot. It added $51 million but still fell just short of hitting the $200 million mark. At $198 million it's the only entry in the four part franchise that failed to pass $200 million by its second weekend and looks to hold on to its position as the lowest earner of the bunch.
Despite that, it still has a strong position for the year. It's set to be one of only around ten movies this year to break $200 million, a small twist from 2013 and 2014 which each saw thirteen films break that mark in domestic sales.
Disney Pixar's The Good Dinosaur landed third with $39 million. The movie's total domestic sales come to $55 million when you roll in the Thanksgiving holiday ticket sales, but it's still a lower than average opening for a Pixar flick.
Third place went to the latest installment in the Rocky franchise, Creed, in which Stallone continues to breathe new life into an aging character. After Rocky Balboa did moderately well with a $12 million opening and $70 million domestic run in 2006, Creed made an even stronger start our of the corner, banking a solid $30 million over the weekend with $42 million total over the holiday weekend. If it can hold out for a strong second round next weekend, Creed may end up hitting $100 million before it closes, making it the first Rocky movie to do so since Rocky IV in 1985.
After a three weekend slow burn in small release, Brooklyn rode some solid word of mouth and an enviable 99% rating on Rotten Tomatoes (leave it to Dan Schindel of Movie Mezzanine and Gary Wolcott of the Tri-City Herald to ruin everyone's buzz) to ninth place. It expanded from less than a hundred screens to 840+, adding $3.8 million to its $7 million domestic total. Not bad for holiday awards bait, but not as good as Spotlight which, now in its fourth weekend as well, held on to number eight from last weekend and passed the $10 million mark to a $12 million domestic total.
For the full weekend top ten, check out the chart below:
1.
The Hunger Games: Mockingjay - Part 2

$51,600,000Total: $198,312,341LW: 1
THTRS: 4,175
2.
The Good Dinosaur *

$39,192,000Total: $55,565,000LW: N
THTRS: 3,749
3.
Creed *

$30,120,000Total: $42,600,000LW: N
THTRS: 3,404
4.
Spectre

$12,800,000Total: $176,056,967LW: 2
THTRS: 2,940
5.
The Peanuts Movie

$9,700,000Total: $116,757,472LW: 3
THTRS: 3,089
6.
The Night Before

$8,200,000Total: $24,102,536LW: 4
THTRS: 2,960
7.
The Secret in their Eyes (2015)

$4,502,000Total: $14,031,039LW: 5
THTRS: 2,392
8.
Spotlight

$4,495,290Total: $12,347,179LW: 8
THTRS: 897
9.
Brooklyn

$3,832,000Total: $7,289,949LW: 12
THTRS: 845
10.
The Martian

$3,300,000Total: $218,640,849LW: 7
THTRS: 1,420
Your Daily Blend of Entertainment News
Thank you for signing up to CinemaBlend. You will receive a verification email shortly.
There was a problem. Please refresh the page and try again.