Weekend Box Office: Neighbors Takes Number One Over Sinking Spider-Man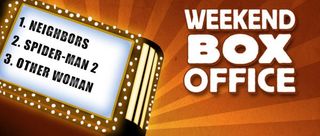 It was a good weekend to be Seth Rogen and Zac Efron. Not so much to be Spider-Man, Trace Adkins or Dorothy from Kansas.
Neighbors debuted at a solid number one with $51 million, making it the third largest ever opening for a rated-R comedy (Sex and the City is the highest, opening with $57 million in 2008, and Ted which opened at $54 million in 2012). That's the highest ever live-action opening for Rogen (his previous best was Green Hornet, $33 million in 2011). The same goes for Efron who has struggled to find the box office limelight post High School Musical 3.
The Amazing Spider-Man 2 took a hard hit, dropping almost 60% in its second weekend. After ten days in theaters it is still struggling to hit the $150 million mark, something the previous Spider-man movies (both franchises) usually managed in their first week, sometimes in their first weekend. International sales for The Amazing Spider-Man 2 crossed the $400 million mark, but overall the movie is still on track to be the lowest performing entry to either franchise so far.
Trace Adkins joined Sean Astin and Patricia Heaton for the Mother's Day timed release of PG comedy Moms' Night Out. In just over 1,000 venues it managed $4.2 million for a seventh place opening. That's not a very exciting start, but not bad for a movie made on a $5 million budget. Animated feature Legends of Oz: Dorothy's Return had a full wide release (2,500+ locations) but banked less than $4 million, suffering the lowest wide-release opening of the year so far.
For the full weekend top ten, check out the chart below:
1.
Neighbors *

$51,070,000Total: $51,070,000LW: N
THTRS: 3,279
2.
The Amazing Spider-Man 2

$37,200,000Total: $147,900,000LW: 1
THTRS: 4,324
3.
The Other Woman (2014)

$9,250,000Total: $61,730,000LW: 2
THTRS: 3,306
4.
Heaven is for Real

$7,000,000Total: $75,220,000LW: 3
THTRS: 3,048
5.
Captain America: The Winter Soldier

$5,619,000Total: $244,997,000LW: 4
THTRS: 2,701
6.
Rio 2

$5,125,000Total: $113,165,000LW: 5
THTRS: 2,973
Swipe to scroll horizontally
7.
Moms' Night Out *
$4,200,000
Total: $4,200,000
LW: N
THTRS: 1,044
Swipe to scroll horizontally
8.
Legends of Oz: Dorothy's Return *
$3,705,000
Total: $3,705,000
LW: N
THTRS: 2,575
9.
Divergent

$1,700,000Total: $145,024,000LW: 7
THTRS: 1,233
10.
Brick Mansions

$1,480,000Total: $18,328,000LW: 6
THTRS: 1,954
Your Daily Blend of Entertainment News
Your Daily Blend of Entertainment News
Thank you for signing up to CinemaBlend. You will receive a verification email shortly.
There was a problem. Please refresh the page and try again.