Weekend Box Office: Straight Outta Compton Three-peats, We Are Your Friends Bombs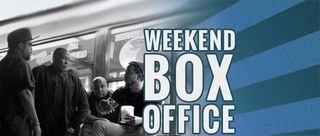 Straight Outta Compton enjoyed a third weekend as number one movie, earning its three-peat not so much on staying power but a lack of anything better showing up to compete.
Religious drama War Room was the weekend's highest per-theater earner, banking almost $10,000 per screen, but given its limited release, sales only added up to $11 million. That wasn't enough to topple Compton which dropped a normal 50% from last weekend, adding #13 million to its now $134 million total.
No Escape didn't have a built in audience to play to like War Room, or if it did (does Owen Wilson have a fan club?) they didn't show up to help the movie off to a good start. With an $8 million opening it managed a weak fourth place debut.
In a bid to milk as much summer revenue as it can out of its newest and goldeniest cash cow, Universal almost re-doubled the number of screens showing Jurrasic World, boosting sales enough to push the movie back up into the top ten. It had almost slipped into the less-than-a-million club but this new re-expansion brought in $3 million this weekend, adding a touch more to the film's already massive $643 million domestic haul.
Zac Efron's latest offering We Are Your Friends didn't seem to have any friends in return. Despite being in wide release (2,300+ locations) the movie tanked hard, barely scraped together $1.8 million, leaving it well off the top ten chart and putting it in the running for worst per-screen opening of summer 2015.
For the full weekend top ten, check out the chart below:
1.
Straight Outta Compton

$13,240,000Total: $134,126,000LW: 1
THTRS: 3,142
2.

War Room
$11,000,000
Total: $11,000,000
LW: N
THTRS: 1,135
3.
Mission: Impossible - Rogue Nation

$8,300,000Total: $170,387,000LW: 2
THTRS: 3,095
4.
No Escape

$8,288,000Total: $10,349,000LW: N
THTRS: 3,355
5.

Sinister 2
$4,650,000
Total: $18,512,000
LW: 3
THTRS: 2,799
6.
The Man From U.N.C.L.E.

$4,410,000Total: $34,122,000LW: 5
THTRS: 2,706
7.
Hitman: Agent 47

$3,850,000Total: $15,271,000LW: 4
THTRS: 3,273
8.
The Gift (2015)

$3,134,000Total: $35,960,000LW: 7
THTRS: 1,934
9.
Jurassic World

$3,120,000Total: $643,088,000LW: -
THTRS: 1,239
10.
Ant-Man

$3,054,000Total: $169,187,000LW: 8
THTRS: 1,690