Weekend Box Office: Texas Chainsaw Butchers Its Way To New Year Number One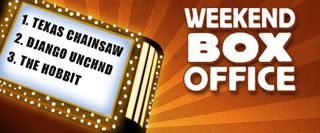 The New Year started off with a bit of horror, with Texas Chainsaw 3D marking the eighth time the story franchise has been sent to the big screen.
With no other new competition and a modest $23 million opening, the flick took number one, edging out Django Unchained which held onto the number two spot and added $20 million to its now $106 million total. That sets Django on its way to becoming writer/director Tarantino's most lucrative outing yet, topping the $120 million Inglorious Basterds banked in 2009.
After a less than spectacular debut in small release, and following on the heels of mediocre critical review, Matt Damon and John Krasinski's Promised Land expanded wide but barely took in enough to snag last place in the top ten with $4 million.
For the full weekend top ten check out the chart below:
1.

Texas Chainsaw 3D *
$23,000,000
Total: $23,000,000
LW: N WR: 1
THTRS: 2,654
2.

Django Unchained
$20,082,000
Total: $106,351,000
LW: 2 WR: 2
THTRS: 3,010
3.

The Hobbit: An Unexpected Journey
$17,525,000
Total: $263,820,000
LW: 1 WR: 4
THTRS: 3,755
4.

Les Miserables (2012)
$16,117,000
Total: $103,605,000
LW: 3 WR: 2
THTRS: 2,904
5.

Parental Guidance
$10,125,000
Total: $52,761,000
LW: 4 WR: 2
THTRS: 3,368
6.

Jack Reacher
$9,300,000
Total: $64,804,000
LW: 5 WR: 3
THTRS: 3,288
7.

This Is 40
$8,559,000
Total: $54,460,000
LW: 6 WR: 3
THTRS: 2,931
8.

Lincoln
$5,258,000
Total: $143,933,000
LW: 7 WR: 9
THTRS: 1,901
9.

The Guilt Trip
$4,530,000
Total: $31,207,000
LW: 8 WR: 3
THTRS: 2,312
10.

Promised Land (2012)
$4,312,000
Total: $4,661,000
LW: - WR: 2
THTRS: 1,676