Weinstein Company Turn Finding Neverland Into A Stage Musical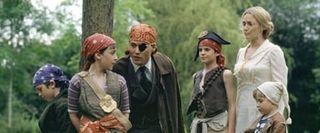 Bob and Harvey Weinstein have had their names attached to tons of Oscar-nominated movies over the past couple of decades, but now they're looking to conquer an entire new medium: the stage. The New York Times reports that the Weinstein Company is developing a stage musical based on the movie Finding Neverland, which tells the story of the relationship between Peter Pan creator J.M. Barrie and the family that inspired his most famous story.
Broadway director/choreographer Rob Ashford (How to Succeed in Business Without Really Trying) is directing the stage version of the 2004 film. The musical has actually been in the works for a while now, and was originally supposed to premiere at the La Jolla Playhouse last month, but it was delayed when the Weinsteins decided it still needed some work. Supposedly these changes involved getting Barrie together with Sylvia (played by Kate Winslet in the movie) and her family sooner, further emphasizing that relationship. Now the Finding Neverland show is slated to premiere somewhere in Britain next year, and then move to London.
This will be something of a full-circle journey for the story of Barrie. The movie was based on the existing play, The Man Who Was Peter Pan, written by Allan Knee. Screenwriter David Magee adapted it into the script that became the Johnny Depp and Kate Winslet movie, directed by Marc Forster (Quantum of Solace). The Barrie/Depp role will be played by British actor Julian Ovenden, who starred in Death Takes a Holiday last summer Off Broadway.
Your Daily Blend of Entertainment News
Thank you for signing up to CinemaBlend. You will receive a verification email shortly.
There was a problem. Please refresh the page and try again.