Wentworth Miller Playing An Introverted Tech Genius In Analog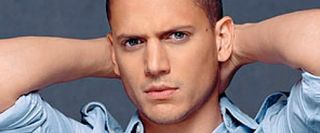 Wentworth Miller, the actor best known as the star of the Fox series Prison Break, has been branching out into screenwriting lately with some real success; his script Stoker is going into production with Park Chan-Wook directing and MIa Wasikowska in negotiations to star. But acting still pays the bills, so Miller is taking another role in front of the camera too. Variety reports that he'll be starring in Analog, an indie dramedy about "an introverted genius who tries to find a love connection in an increasingly digital world."
Go ahead and make all your Mark Zuckerberg and Social Network jokes, but the script appeared on the Black List in 2005, back when even college kids were barely grasping the significance of Facebook. Mike Million will be directing his own script, which he'll presumably be updating to reflect the hundreds of different technological shifts that have happened in the last five years. Shooting "may" happen this summer in Michigan, though it's not clear from the article if they're waiting on money, schedules, or some combination of the two to come together.
Staff Writer at CinemaBlend
Your Daily Blend of Entertainment News
Thank you for signing up to CinemaBlend. You will receive a verification email shortly.
There was a problem. Please refresh the page and try again.