Wesley Snipes Says He'd Be Down For A White Men Can't Jump Sequel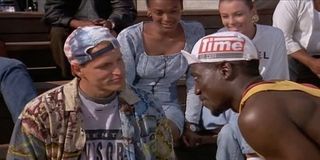 Look, all due respect to Wesley Snipes, but if you put him in a public arena right now and ask him about any of his older hits, he's going to talk sequels. That's just the nature of the beast: Snipes is sadly now a 51 year old ex-con, and not the limber comedic leading man from White Men Can't Jump. But what if Wesley Snipes could turn the clock back and do a sequel to White Men Can't Jump, one of the most beloved sports films of all time?
Total Film caught up with the former Blade actor at the premiere of X-Men: Days Of Future Past (god, he would have been a great Bishop), and quizzed him about a sequel.
For those of you who can't remember much about White Men Can't Jump (it was 22 years ago!), that original film was written and directed by Ron Shelton. Shelton was a sports movie expert at the time, a former minor league baseball player who turned his experiences into Bull Durham. After White Men Can't Jump, he made films about baseball (the pitch-black Cobb), golf (Kevin Costner's Tin Cup) and boxing (the mostly terrible Play It To The Bone). As a screenwriter, he also penned the football movie The Best Of Times, the basketball recruiting drama Blue Chips and the boxing satire The Great White Hype, a kind-of underrated comedy that is something of a perfect 90's time capsule.
So when Wesley Snipes says, "We just have to figure out the script," you assume he's referring to Ron Shelton. Of course, that would make more sense if Shelton was actually in-demand within the industry. His last directorial effort was the dismal Hollywood Homicide, a bomb in the days where Hollywood mistakenly thought putting Harrison Ford in anything equaled top dollar gross. And though he's done some low-key TV work, his last onscreen film credit was a co-writing gig on Bad Boys 2, eleven years ago. If you know Shelton and you've seen Bad Boys 2, you know there's very little trace of his fingerprints on that film.
None of that would stop Wesley Snipes from talking sequel prospects for White Men Can't Jump. And why not? Stars Snipes and Harrelson had a good enough time working on the film that they later collaborated on Money Train with a not-very-well-known Jennifer Lopez. All due respect to Rosie Perez, the female lead in White Men Can't Jump, but maybe they should be doing a Money Train sequel with Lopez instead? Snipes is set to appear in The Expendables 3, and since Blade is back at Marvel, maybe he can suit up for that one as well? None of these options are exactly Passenger 58 as far as sequel ideas, but Snipes (and us Snipes fans) will take what we can get.
Your Daily Blend of Entertainment News
Thank you for signing up to CinemaBlend. You will receive a verification email shortly.
There was a problem. Please refresh the page and try again.