What Anchorman And Elf Would Look Like With Kevin Hart Instead Of Will Ferrell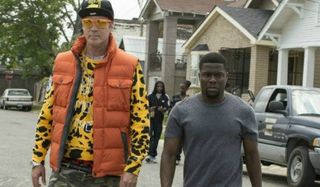 Will Ferrell and Kevin Hart are currently hard at work promoting their upcoming film Get Hard. And in order to do just that they have not only teased that they auditioned for a number of roles that the other eventually landed, but they've created a plethora of fake failed audition tapes too. Which, as you could probably have guessed, are all hilarious. So if you've ever wondered what Anchorman and Elf would have looked like with Kevin Hart as the lead then you should definitely take a look.
Hart and Ferrell created these clips for a Funny Or Die sketch that was simply entitled Will Ferrell And Kevin Hart's Failed Audition Tapes. My particular highlight was seeing Kevin Hart's failed audition tape for Elf below, especially since the diminutive comedian looked so dapper in the green attire.
Hart created a fake Anchorman audition tape too, which, while still hilarious, is actually really creepy to look at. Seriously, seeing Hart dressed as the iconic Channel 4 News Team leader is oddly disconcerting.
Told you. It wasn't just Hart who was riffing on Ferrell's roles though. Ferrell joined in the fun by teasing that he tried to use a fake British accent to land the role of Kevin Hart in Real Husbands Of Hollywood, while he also impersonates Hart's stand-up special and performance in Ride Along too. It's just a shame that he wasn't able to cajole Ice Cube into joining in for the latter, because I'm almost certain that would have resulted in Ferrell being severely beaten. It's not that I want to see Ferrell get hurt, it's just that I think it would be hilarious to see.
Get Hard will hit cinemas on March 27, 2015, and much is expected of the comedy. It's also the latest attempt by Ferrell to prove his comedic mettle outside of his relationship with Adam McKay. While there's no denying the fact that Anchorman, Step Brothers, and The Other Guys were riotously hilarious, the likes of Blades Of Glory, Semi-Pro and The Campaign (each of which weren't written or directed by McKay) have been pale imitations.
Ferrell's patter with Jon Heder, Woody Harrelson, and Zach Galifianakis, respectively, in these films didn't match the level he achieved with the Anchorman cast, John C. Reilly and Mark Wahlberg in McKay's films. But Kevin Hart is arguably the hottest comedic property in Hollywood right now, and the first trailers and clips for Get Hard suggest that he might actually have got the best out of Ferrell in the film.
Your Daily Blend of Entertainment News
Thank you for signing up to CinemaBlend. You will receive a verification email shortly.
There was a problem. Please refresh the page and try again.