What Ernie Hudson Loves About The New Ghostbusters Team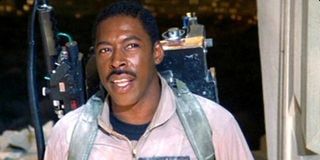 It's more than likely that if you frequent websites of this ilk you're aware that there's a Ghostbusters remake heading our way this summer. You also probably heard of the massive backlash it caused when it was announced that the four jumpsuit-wearing paranormal investigators would all be women. That was a bit of a to-do. Some of the original cast members were on board with this right away, but one who took a while to warm up was Ernie Hudson, though it appears he has developed quite an affection for the new crew.
Like the other surviving members of the original quartet, Bill Murray and Dan Aykroyd, as well as Sigourney Weaver and Annie Potts, Ernie Hudson also filmed a cameo for director Paul Feig's Ghostbusters. Originally when the plan to make the Ghostbusters women was announced, Hudson was the most vocally opposed, but talking to People recently, he praised the new cast. He said:
While the original Ghostbusters was made up of Ernie Hudson, Bill Murray, Dan Aykroyd, and the late Harold Ramis, the new spirit hunters are played by Melissa McCarthy, Kristen Wiig, Leslie Jones, and Kate McKinnon. While we know that all four of these actresses are hilarious on their own, at least according to Hudson, they also play well together.
That shouldn't be entirely surprising. Melissa McCarthy and Kristen Wiig worked together, and with director Paul Feig, on Bridesmaids with fantastic comedic results. And Wiig, Kate McKinnon, and Leslie Jones have all served time on Saturday Night Live, where both Jones and McKinnon are current cast members and have appeared in countless sketches together. Still, it's nice to hear and such and endorsement should hopefully go some ways to convincing some naysayers that Ghostbusters will actually be good.
When the news of an all female Ghostbusters was announced, Ernie Hudson was the most critical of the original cast members. Bill Murray was all in favor on the idea right away, though we suspect it had something to do with the fact that now people would stop asking him if he was going to be in Ghostbusters 3. Hudson said he didn't think fans wanted to see an all female group of Ghostbusters, and wondered, if they went that direction and the film had no connection to the first two movies, why even call it Ghostbusters?
Granted, I don't think we expected Ernie Hudson to come out and crap all over the new Ghostbusters, but it certainly looks like he has changed his stance on the film. We'll see how funny it is for ourselves when Ghostbusters hits theaters July 15.
Your Daily Blend of Entertainment News