What Gareth Edwards Brings To Star Wars: Rogue One, According To Riz Ahmed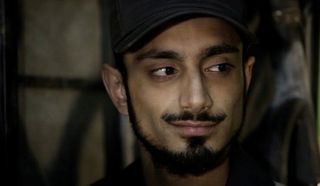 With the juggernaut that is Star Wars: The Force Awakens largely in the rearview (we still plan to see it a couple more times before it leaves theaters), it's time to look to the future of that far, far away galaxy. The next chapter is less than a year away, and actually looks to the past of the franchise. Star Wars: Rogue One is the first of the standalone Star Wars Story movies that explore parts of this universe that fall outside of the main narrative through line of the Episodes, and according to one of the stars, it, and the director, bring something very different to the table.
Nightcrawler star Riz Ahmed plays an as-yet unidentified role in Star Wars: Rogue One, but he had some interesting things to say about director Gareth Edwards, and what he adds to the Star Wars universe when Hey U Guys caught up with him on the red carpet at the BAFTAs. He said:
From the beginning, this is what we've hoped for from the Star Wars Story movies like Rogue One. The Episode movies, like Star Wars: The Force Awakens and the Rian Johnson-directed Star Wars: Episode VIII will continue the main story we know and love, including familiar characters. On the other hand, these spinoff movies will help to give this universe a broader scope and even more depth and texture. They will shine a light into heretofore-shadowy corners. Another point of differentiation is that they will reportedly have very little, if anything, to do with the Force and the Jedi, which has been such a focus in the Episodes.
Though we don't know a ton of specifics, Rogue One tells the story of the theft of the plans for the original Death Star. Set before the events of A New Hope, it follows the exploits of the team dispatched to procured these plans and has been described as a heist film. Darth Vader and a cadre of bounty hunters are also said to be involved. So that's promising.
Riz Ahmed's statement about Rogue One being a war film is also not the first time it's been called that. In fact, terms like "gritty" have been tossed around, and it's even been compared to Vietnam War movies like Hamburger Hill.
However it shakes out, Star Wars: Rogue One promises to be something quite different from what we have come to expect from Star Wars. How audiences respond to that remains to be seen, but we'll see it for ourselves on December 16.
Your Daily Blend of Entertainment News
Thank you for signing up to CinemaBlend. You will receive a verification email shortly.
There was a problem. Please refresh the page and try again.