What Is Your Profession? Gerard Butler In Talks To Play Submarine Captain In Hunter Killer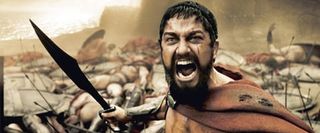 Every actor needs a great submarine movie to round out their career. Where would Denzel Washington and Gene Hackman be without Crimson Tide, or Sean Connery and Alec Baldwin without The Hunt for Red October? Well, they'd still be as successful as they are now, but those movies are decidedly awesome because there's just something cool about big steel tubes firing torpedoes at each other underwater.
Gerard Butler, occasional romcom specialist and frequent object of middle-aged ladies' affections, is in talks to join the ranks of awesome actors whose careers are made more awesome thanks to their roles in submarine films. Variety has it that the 300 star may be taking on the lead role in Hunter Killer, about a rookie submarine captain forced to test his mettle. His mission: cooperate with a Navy SEAL team to help rescue the kidnapped Russian president and prevent World War III. Lofty, I know.
Joining Butler will be action hero "it" guy Sam Worthington who'll play the SEAL team leader, but no other assignments have been doled out yet. At the helm for the film will be acclaimed director Antoine Fuqua who has so many movies in development it'll make your head spin. It surprising that he's finding time to get Hunter Killer together for the proposed release next Christmas among everything else he's working on.
Based on the novel Firing Point by retired submariner George Wallace and his collaborator Don Keith, Hunter Killer may not be setting up anyone involved for Oscar nods, but undoubtedly this movie will be big action with some heavy drama as Butler's character tries to survive his trial-by-fire. More on Hunter Killer as the cast fills out.
Your Daily Blend of Entertainment News
Thank you for signing up to CinemaBlend. You will receive a verification email shortly.
There was a problem. Please refresh the page and try again.