Why Birdman's Edward Norton Deserves A Golden Globe And So Much More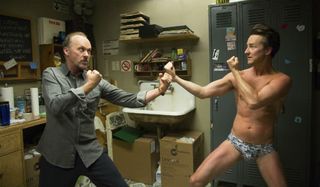 When we think about some of the more underrated actors in the industry today, Edward Norton is at the top of the list. The actor has stacked up a number of incredible performances in movies such as American History X, Leaves of Grass, Primal Fear, Fight Club and now, the recent Golden Globe nominated Birdman. And what makes Norton so unique is that each performance is strong, but each performance is incredibly different too. So it's no wonder that Edward Norton's performance in Birdman has been nominated for a 2015 Golden Globe for Best Supporting Actor.
This isn't Norton's first time at the Golden Globes. You may have forgotten his win in 1997 for Best Supporting Actor, for his performance in Primal Fear. It was Norton's film debut and he played an altar boy charged with the murder of an archbishop. Norton's performance stole the show, and began a streak of more stellar performances that just kept getting better. But no more awards were seen, at least not on the big stage.
Norton has added much to his plate in the years, writing his own screenplays, directing, producing, and even intensive work as an environmental and social activist. But when it comes down to his acting, he never strays far from perfection. And his performance in Birdman is no different. Norton plays an arrogant yet renowned theater star, Mike Shiner, who decides to play a supporting role in a washed up Superhero actor's attempt at a Broadway comeback.
Norton's character in the film may be a nod at himself, pushing the limits of his own acting to create authentic performance. He is far from friendly, but the character (and Norton) definitely can act. Though younger in age, Norton's character shares his own acting philosophies and theater learned wisdom on the washed-up star. The most interesting part of the character though, is that he admits that he is only real on stage. He admits that he pretends in his own life, but it is on stage that he knows his place. Watch the trailer below:
It's about damn time that Norton take home another Golden Globe. And for no better performance than one that exposes the constant struggle that actors face. Renowned directors such as Woody Allen, Spike Lee and David Fincher use Norton in their films time and time again. He's consistent and intelligent (graduated from Yale), a versatile actor who deserves to be a more recognized name in the the industry, and to move up the ladder many steps more.
Your Daily Blend of Entertainment News
Thank you for signing up to CinemaBlend. You will receive a verification email shortly.
There was a problem. Please refresh the page and try again.