What Pisses Edward Norton Off About Older Snarky Hollywood Elites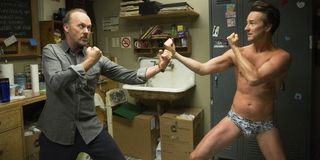 The old adage, "they don't make them like they used to," has become increasing popular over the years, and it clearly pisses Edward Norton off to an extreme degree.
Apparently the Fight Club star is fed up with uppity older patrons of Hollywood looking down on recent cinematic glories. He made his declaration of war during a recent discussion with HitFix to promote his upcoming turn in Birdman. After performing his duties, which saw him heap praise on director, Alejandro Gonzalez Inarritu and the film's lead, Michael Keaton, he was reminded that it is the 15th anniversary of the release of Fight Club this week. Norton admitted it was such a film of its moment that he couldn't help but feel a little "distant" from it now. But he also mentioned that it was part of a stunning 12 months of cinema, and this then led him to state that modern movies don't get enough recognition.
Norton went on to note that the fact The Matrix, Fight Club, Three Kings, Election, Magnolia and Being John Malkovich were all released in 1999 proves that it was a pretty stellar period for movies. However he also believes that 2014 is shaping up quite nicely too, citing the likes of Grand Budapest Hotel, Boyhood, Gone Girl, Inherent Vice, and Foxcatcher as evidence. "Yeah everybody's always saying like, you know, 'Franchise films are taking over,' but then lo and behold, you get the kind of films that are coming out this year and I just – I think it's a thing people like to write, but the truth is there's a lot of very exciting work going on," he explained.
It's hard not agree with Edward Norton's statement. Because of dominance of the superhero genre at the box-office, as well as the influx of repetitive, loud franchises, it's easy to forget that there are sublime slices of cinema being released on a monthly basis too. Unfortunately, they aren't given the distribution that they deserve, and because of this most of them fail to connect with a mainstream audience. And this is obviously a huge shame. But when you consider the fact that David Fincher, the Coen brothers, Paul Thomas Anderson, Wes Anderson, David O Russell, Alexander Payne, Spike Jonze and Christopher Nolan are each releasing projects on a regular basis, there's still plenty to be happy about if you're a movie fan.
Your Daily Blend of Entertainment News
Thank you for signing up to CinemaBlend. You will receive a verification email shortly.
There was a problem. Please refresh the page and try again.