Why Burt Reynolds Hated Working With Paul Thomas Anderson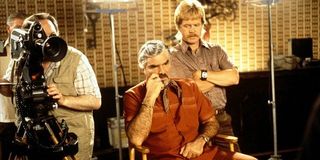 As the writer and director of Boogie Nights, Magnolia, Punch Drunk Love, There Will Be Blood, The Master, and Inherent Vice, Paul Thomas Anderson is rightly lauded as the most beautifully idiosyncratic filmmaker of the last 20 years. But Burt Reynolds, who starred in Boogie Nights, has tried to downplay the filmmaker's talent, insisting that he found working alongside PT Anderson somewhat of a chore.
The 79-year-old actor, who is currently doing the round promoting his memoir, But Enough About Me, has admitted that he found PT Anderson, who at the time of shooting Boogie Nights was only 26-years-old, to be a little bit too cocky for his tastes. Speaking to GQ he explained:
Even though I am a Paul Thomas Anderson die-hard who considers getting a tattoo in his honor on an almost daily basis, I fully agree with Burt Reynolds' assessment. Not that PT Anderson was full of himself – as I have never had the privilege of actually meeting the great man – but that Boogie Nights is full of shots and camera movements that weren't original.
But, frankly, who cares? What made Boogie Nights so powerful and captivating was the alluring but nasty story of Dirk Diggler, and the complex characterization that Paul Thomas Anderson brought to every single member of the cast and ensemble. The homages to Touch Of Evil, Goodfellas, Nashville, Jules Et Jim, and Jonathan Demme, who Anderson admits in the Boogie Nights commentary, via Film School Rejects, that he ripped off so blatantly he felt the need to call him and say, "Did you see all the shots I ripped off from you?," have a different texture and feel to their predecessors because of Boogie Nights' unique context, and they only help to enhance the cinematic experience.
This isn't the first time that tales of Burt Reynolds and Paul Thomas Anderson almost getting into fisticuffs on the set of Boogie Nights have emerged. In Grantland's truly stunning feature article on Boogie Nights' production, which everyone even remotely interested in cinema should read immediately, first assistant director Josh Windermuth recalls a story where Burt Reynolds yelled in Anderson's face because he believed the director was giving preferential treatment to other actors. Actor Tom Lenk also insists that Reynolds then tried to punch Anderson in the face, but the two were eventually pulled apart.
Either way, that tension, resentment or whatever you want to call it, only helped to make Boogie Nights what it is, a downright dirty ménage a trois of epic storytelling, unflinchingly raw performances, and unrelenting, unyielding camerawork and music, that results in a perfect American tragedy and made it one of the best films of the last 20 years.
Your Daily Blend of Entertainment News
Thank you for signing up to CinemaBlend. You will receive a verification email shortly.
There was a problem. Please refresh the page and try again.