Why George Lucas Never Thought He'd Make Star Wars Prequels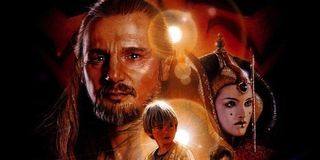 George Lucas admitted that he never actually believed he'd be able to make the Star Wars prequels because he didn't think that the technology to create the films he wanted would ever exist. However, Lucas was finally convinced that such sensational special effects had finally caught up with his vision thanks to the good people over at ILM.
George Lucas made this admission while talking to Wired for an in-depth and extensive piece on Industrial Light & Magic. Lucas explained:
So it turns out that we've got ILM to blame for Star Wars: Episode I - The Phantom Menace, Star Wars: Episode II - Attack Of The Clones, and Star Wars: Episode III - Revenge Of The Sith. I've just been blaming it on Jar-Jar Binks for all this time.
George Lucas originally founded Industrial Light & Magic back in May 1975, after he was paid $25,000 by 20th Century Fox to write Star Wars: A New Hope. However, after he'd signed on the dotted line he was informed that the studio didn't have a special effects department, which inspired Lucas to start his own. And what a company ILM have blossomed into. Despite these humble beginnings, over the last 40 years they've had a hand in 317 movies, and helped to create a number of iconic technological advancements.
A lot the films that ILM has worked on are beloved by moviegoers. Unfortunately, the prequel trio of Star Wars films aren't in that category. In fact, most people aren't overly fond of them. It's widely acknowledged that rather than adding to the universe the original films so expertly introduced, they were cheesy, over-long, and packed with atrocious dialogue. In fact, Patton Oswalt eloquently and hilariously sums up just why the trilogy doesn't work up in the video below.
However, despite its mountain of problems, there is one reason why we should all be grateful for the Star Wars prequels: it introduced the world to this glorious poster, which, hands down, is the greatest movie poster ever created.
We'll see if J.J. Abrams is able to return the Star Wars franchise to the level of A New Hope, Empire Strikes Back, and Return Of The Jedi when Star Wars: The Force Awakens is finally released on December 18, 2015. It promises to be kind of a big deal.
Your Daily Blend of Entertainment News