Why Guilt-Tripped Stars Won't Promote Movie 43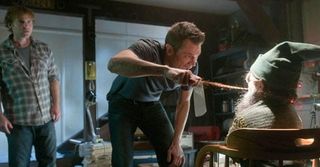 Shot over four years, the comedy omnibus Movie 43 boasts an insane amount of noteworthy stars from Kate Winslet, Hugh Jackman, Naomi Watts, Emma Stone, Chloe Grace Moretz, Gerard Butler, Halle Berry, Terrence Howard, and Stephen Merchant. With so much top-rate talent, you might think this comedy is destined to be a classic. However, there are some worrisome signs.
For one, it's been scheduled for the theatrical release dumping zone that is January. Secondly, the movie doesn't appear to be screening for critics at all. Third, none of stars are promoting the film in any way shape or form. And lastly, its producer Peter Farrelly has revealed that the cast signed on not so much because of a great script but because Farrelly and his fellow producers were dogged in their pursuit of them.
The NY Post reports Movie 43 has long been a passion project of Farrelly's and his producing partner Charlie Wessler, who dreamed of making a comedy in the vein of Kentucky Fried Movie. This was not a project that appealed to most studios, but Wessler got the ball rolling by convincing Jackman to sign on after the two met at a wedding. From there they somehow snagged Winslet, and then used their names to lure in more luminaries. Still, the pair faced flat-out rejection from some stars, like George Clooney. When asked if he'd like to cameo as himself in a sketch where he'd fail to pick up women, Clooney's response was a curt: "No fucking way."
Other big names that dropped out of the project include South Park's Trey Parker and Matt Stone as well as Kentucky Fried Movie scribes David and Jerry Zucker, and Colin Farrell, who was slated to appear opposite Butler in a leprechaun-centered short. Butler has commented that Farrell offered a lame excuse about stepping out, adding, "Colin, you saw sense and backed out — admit it."
Less fortunate it seems was Richard Gere, who as a friend of Wessler's initially agreed to play a part in the film, but then attempted to dodge it for more than a year. For most productions this would be enough to get an actor out. But with Movie 43's long list of directors and thereby limber shooting schedule, this tactic didn't work. Finally, Gere agreed to play a dopey computer designer who doesn't understand why young boys are humping his iBabe creation on two conditions: it had to be shot in four days, and in Los Angeles, not New York. Regrettably for Gere, these conditions were met easily enough.
Even Farrelly admits of his stars, "They clearly wanted out! But we wouldn't let them." He goes on to say this project was made under a simple strategy: "Wait for them. Shoot when they want to shoot. Guilt them to death."
Movie 43 opens Friday.
Your Daily Blend of Entertainment News
Staff writer at CinemaBlend.