Why Jim Carrey Hates Taking Pictures With Fans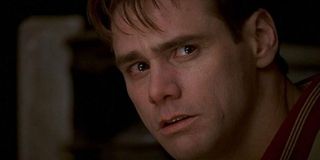 If you've ever asked Jim Carrey for a quick photograph, then there is a good chance that you ruined his day in the process. The legendary comedy actor has opened up about the pitfalls of being an on-screen icon, and while some people might struggle to relate to his opinion, others will definitely understand where he is coming from.
Alongside his Dumb And Dumber To co-star, Jeff Daniels, Jim Carrey opened up about his hatred of having to take pictures with fans during a discussion with Screen Slam. After declaring that every photo he has ever taken has been "a pain in the ass" Jeff Daniels echoed his remarks by noting that the rise in mobile phones with cameras means that "there is no need to carry a [pen] anymore." The decline of the autograph hunter is something that is seldom brought up nowadays. But that is for another occasion.
Spurred on by this announcement, Jim Carrey went on to explain that the pair "still do it because [they] like people and [they] don't want to disappoint them," but he then added that they still "hate it." Jeff Daniels then backtracked slightly for him after it was noted that "hate" is a strong word, and it was instead explained that they "dislike it with a vengeance." (That's better). Jim Carrey then went on to tell an anecdote that appears to be a daily occurrence for him.
To be fair to both Jim Carrey and Jeff Daniels, the pair did note that this is just one minor bad-side to being able to work as professional actors for a living. They said that they still adore being creative in front of the camera, and then watching the effect that their work has on audiences. This, however, was slightly spoiled by the fact that Jim Carrey did precede this with the declaration, "Fame is the worst thing that you can do to yourself." Unfortunately for Jim Carrey, there is actually no way around this dilemma. He turned himself into arguably the funniest man of his generation, and now he has to live with the consequences. I'm sure he still gets to sleep at night just fine though.
Your Daily Blend of Entertainment News
Thank you for signing up to CinemaBlend. You will receive a verification email shortly.
There was a problem. Please refresh the page and try again.