Tommy Lee Jones Said Really Mean Things To Jim Carrey During Batman Forever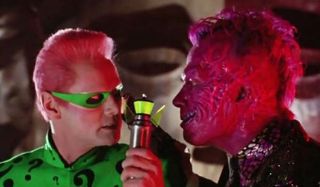 Sometimes a movie duo works fabulously together onscreen, but the two utterly loathe each other offscreen. Rumor has it this was the case for Audrey Hepburn and Humphrey Bogart on Sabrina, Patrick Swayze and Jennifer Grey on Dirty Dancing, and even Rachel McAdams and Ryan Gosling on The Notebook. Well, add Batman Forever's dastardly duo of Tommy Lee Jones and Jim Carrey to this list. It turns out Jones loathed Carrey, and had no trouble letting it be known.
While promoting his upcoming Dumb and Dumber To, Jim Carrey appeared on Howard Stern's show for a lengthy interview. About 55 minutes in, talk turns to Carrey's time playing the Riddler in Joel Schumacher's Batman Forever, in which Tommy Lee Jones co-starred as Two-Face. Well, it turns out Jones was less than thrilled to be sharing scenes with the comedian, and wasn't shy about letting Carrey know. According to Carrey, Jones said to his face:
Reached for comment, Tommy Lee Jones offered this as response:
All kidding aside, Jim Carrey was incredibly calm and polite about this pretty aggressive insult. He was actually able to rationalize where Tommy Lee Jones's intense outburst arose: pure professional jealousy. That might seem insane considering at the time one was a rubber faced comedian and the other a well-respected and established actor, but allow Carrey to set the scene:
Rumors of behind-the-scenes drama first surfaced out of Batman Forever when director Joel Schumacher called Jones a "bully" for his behavior on set. But Carrey has previously been pretty quiet about the whole affair. Even now, he seems to show no anger or indignation, adding...
This is a pretty classy move, especially from a guy who's made a mark literally talking out of his ass.
To see the full Jim Carrey interview, click to page 2.
Your Daily Blend of Entertainment News
Staff writer at CinemaBlend.