Why Johnny Depp Really Doesn't Want To Win An Oscar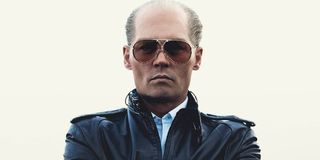 As it turns out, there's some else besides Joaquin Phoenix who doesn't want to win an Oscar. Johnny Depp, the star with his transformative schtick, portrays real-life gangster Whitey Bulger in the film Black Mass, which some critics are musing could be an early Oscar contender. However, Depp recently spoke at the film's London Film Festival premiere on Sunday, and he made his true feelings known about the statuette.
Here are his comments to the BBC on why he doesn't want to win an Oscar,
As Vanity Fair pointed out, the last time Depp made a grand speech at an awards show, he was torn apart. It was at the Hollywood Film Awards in November of 2014. What initially was supposed to be Depp introducing Shep Gordon, talent manager and subject of Mike Myers' Supermensch documentary, turned into a cuss-filled speech. Many Twitter users suggested Depp was intoxicated while on stage. Based on that instance alone, it's no surprise that Depp doesn't want to give an awards acceptance speech. Though, he can always pull an Alfred Hitchcock.
Meanwhile, his second reason for not wanting the statuette — the whole "competition" notion — could be taken as an ego stroke, but at the same time he's sort of right. He's the male equivalent of Helena Bonham Carter, someone who comes alive when covered in elaborate makeup and costumes. There aren't too many actors who fit in this category.
His comments are generally tame and non-combative — unlike Mr. Phoenix. Though, as we learned from him, you only have to ask to never receive an Oscar and the Academy will shut you out. A few years ago, the actor famously bashed the awards when asked about the Oscar campaign for The Master.
Johnny Depp brought up similar points — the discomfort of the campaign and the competition aspect — but he said it a much lighter way. So, perhaps, even though he doesn't want one, he could still have a chance for an Oscar.
Your Daily Blend of Entertainment News
Thank you for signing up to CinemaBlend. You will receive a verification email shortly.
There was a problem. Please refresh the page and try again.