Why Lethal Weapon 5 Will Probably Never Happen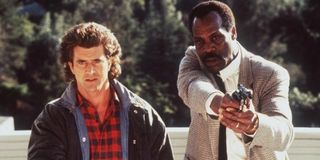 It's been 18 years since the fourth and last Lethal Weapon film. And it speaks volumes about the popularity of the franchise that fans are still calling for a fifth installment to Martin Riggs and Roger Murtaugh's adventures. One of the men who could make that happen is the writer behind Lethal Weapon and Lethal Weapon 2, Shane Black. But the legendary scribe has now admitted that it's very, very unlikely that Lethal Weapon 5 will ever happen, even though he'd previously flirted with the idea of writing it.
Speaking to Thrillist following the latest trailer release for the rather splendid looking The Nice Guys, Shane Black admitted that he previously started to develop Lethal Weapon 5, which would have seen Riggs and Murtaugh as older and more gunslinger types. Unfortunately, a little incident involving Mel Gibson, which has pretty much turned him into box office poison, means that the fifth film is likely to be shelved for the foreseeable future. In fact, probably forever. Shane Black added about the touted project:
Shane Black makes a very good point about Mel Gibson's box office appeal following his huge drunken faux-pas back in 2006. But while that basically rules out a fifth Lethal Weapon film from materializing anytime soon, it doesn't mean that the franchise won't be rebooted, which is something that Hollywood would obviously be interested in. There are plans for a Lethal Weapon TV show at the moment, but the franchise's film prospects are dim.
Previous rumors over the years have suggested that Liam Hemsworth was approached for a starring role in a film reboot, while Max Landis also unveiled his own rather ingenious idea for a new Lethal Weapon film just a couple of months ago, too.
Anyway, it doesn't really matter. Because those of you wanting to watch Lethal Weapon 5 can do just that thanks to It's Always Sunny In Philadelphia. Just take a gander at their admittedly low-budget but unintentionally hilarious fifth film that was featured on the cult comedy, below.
While Lethal Weapon's future remains uncertain, we can all rejoice in the fact that a future Shane Black film is only a couple of weeks away. The Nice Guys, starring Russell Crowe and Ryan Gosling, will finally be released on May 20. And the trailer that was released earlier today proves that Shane Black's deliciously dark wit is still as prevalent as ever.
Your Daily Blend of Entertainment News