Why Natalie Portman Insisted Her New Movie Have A Female Director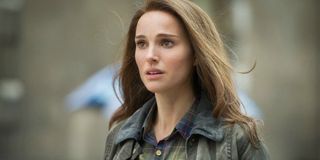 It turns out that Natalie Portman is so upset by the gender-gap that currently exists among Hollywood directors that she decided to take matters into her own hands. Her upcoming project, a biopic about Supreme Court Justice Ruth Bader Ginsburg, was actually delayed because the star insisted that the production hire a female filmmaker to helm the film.
Portman is still in negotiations to portray Ruth Bader Ginsburg in the biopic, and from the sound of things it seems as though the actress really wants to portray Ginsberg, but she made an extra effort to be sure that Focus Features, the studio behind the film, hire a female director for the movie. Ginsberg herself made this admission over the weekend while talking at the American Constitution Society conventional panel, via MSNBC. Ginsberg explained:
The female director in question that Natalie Portman waited for is Marielle Heller, who is currently on the verge of signing up to direct the untitled biopic. It's safe to assume that Natalie Portman will then follow suit and agree a deal to portray Ruther Bader Ginsburg - because if she didn't after getting Heller involved in the project then it would be a rather dick move on Portman's behalf.
Now that it is so close to having both a director and a star locked in, the project is actually turning into a pretty hot commodity. The script for the film comes from Daniel Stiepleman and it previously earned a place on the Black List, which is where the most popular unproduced scripts in Hollywood are showcased.
Not only does it have the Oscar-winning Natalie Portman in a starring role, but Marielle Heller is currently one of the most in-demand directors in Hollywood thanks to The Diary Of A Teenage Girl, which wowed at the Sundance Film Festival earlier this year. Starring Alexander Skarsgard, Kristen Wiig, Christopher Meloni, and newcomer Bel Powley, The Diary Of A Teenage Girl tells the story of a teenage artist from San Francisco in the 1970s who embarks on an affair with her mother's boyfriend.
Portman will be at the peak of her powers for the Ruth Bader Ginsberg biopic too, as she has only recently returned to acting following a barren spell in front of the camera. Between 2012 and 2015 she only starred in Thor: The Dark World, while 2015 will see her appear in Knight of Cups, A Tale Of Love And Darkness, and Jane Got A Gun. But the Ruth Bader Ginsberg biopic is clearly a passion project for Portman, and it's one that she also hopes will prove just how much female filmmaking talent is out there.
Check out the trailer for Marielle Heller's The Diary of a Teenage Girl next...
Your Daily Blend of Entertainment News