Natalie Portman Will Hang Out With Ghosts In Creepy New Movie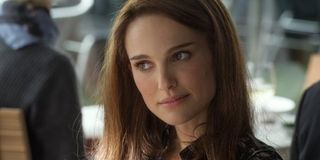 It appears that one of Natalie Portman's upcoming projects will have her interacting with ghosts, ones that presumably won't be digitally replaced by Hayden Christensen. The film, titled Planetarium, will have her co-starring with Lily-Rose Depp as a pair of sisters who possess a spirit-centric second sight.
According to Variety, Portman has jumped on board Planetarium, a nuanced period piece set in 1930's France which focuses on characters described as "spiritualist sisters," who are believed to have the ability to interact with ghosts. With just two film appearances on her film resume, Lily-Rose Depp, the 15 year-old daughter of Johnny Depp, will share the screen alongside the 2011 Best Actress Oscar winner for Black Swan, Portman, playing the clearly younger sibling.
At the moment, not much is known about the specific plot, other than its pre-War French setting. However, one aspect that is mentioned is the idea that at some point in the story, while performing in Paris, the film's ghost-gawking siblings will encounter an unnamed "visionary French producer." This character is said to be based on Bernard Natan, a name that was synonymous with the film industry in France during the 1920's and 1930's. Natan was a notorious figure for not only his supposed involvement in early film erotica, but for his business practices, especially during the Great Depression, which saw his studio collapse. Descending from Romanian and Jewish heritage, Natan passed away at Auschwitz during World War II.
Exactly what a character serving as a stand-in for Natan has to do with spirit-seeking sisters remains to be seen. The idea being floated about is that the sisters are performers of some time, which could imply that this is a movie more focused on the early days of cinema rather than ghost-busting. That aspect, however, is not yet clear.
The film is set against the backdrop of an ominous tide sweeping Europe, which lead to the Second World War. However, the lens through which those events will be seen could, in a political sense, contrasts the growing movements in the art world at the time, like Dadaism and avant-garde cinema, against the rise of ideological extremism. Exactly what that has to do with ghosts is unclear, but the film's creepiness could ultimately be more derived from metaphorical topics than literal.
Planetarium will see Natalie Portman step in front of a camera for a French director for the first time since her breakthrough role as a child assassin-in-training in 1994's Leon: The Professional for Luc Besson. This Portman pic, however, sees Rebecca Zlotowski, who is probably best known for her 2013 blue-collar romance Grand Central, take the helm. The script is co-written by Zlotowski and Robin Campillo, who brings some supernatural, "undead cred" for the original French version of the A&E's The Returned. (Not to be confused with ABC's recently canceled Resurrection.)
Principal photography on Planetarium is set to begin in Paris in September, with a release window penciled in for some time in May of 2016.
Your Daily Blend of Entertainment News