Natalie Portman To Play Supreme Court Justice Ruth Bader Ginsburg In Biopic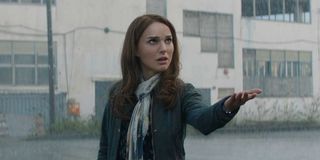 Natalie Portman takes on Ruth Bader Ginsburg. The Academy Award winner is slated to take on the role of the first Jewish female Supreme Court Justice in an upcoming biopic.
According to Deadline, Natalie Portman recently nabbed the starring role in On the Basis of Sex, a biopic about the life and career of Supreme Court Justice Ruth Bader Ginsburg. Marielle Heller, who recently received critical acclaim for her directorial debut Diary of a Teenage Girl, is reportedly in talks to direct the politically charged film, while Focus Films will reportedly finance. Robert W. Cort will produce while Ram Bergman will serve as executive producer. Filming for On the Basis of Sex is on track to begin by the end of the year.
On the Basis of Sex, will center on the numerous obstacles that Ruth Bader Ginsburg faced as she fought for equal rights throughout her career. On August 10, 1993, Ginsburg took the oath of office as an Associate Justice of the Supreme Court of the United States after a lengthy career of advocacy for the advancement of women's rights. She was appointed by then-President Bill Clinton to replace retiring Justice Byron White, becoming the second female Supreme Court Justice—after Sandra Day O'Connoer—and the first Jewish female Supreme Court Justice. Known for her mostly liberal views, Ginsburg has made an indelible imprint on the Supreme Court over the years and will probably continue to do so into the near future. The actress portraying Ginsburg, Natalie Portman, is also a known liberal with a passion for fighting for equal rights.
The script, which was written by Daniel Stiepleman, has already received some acclaim from Hollywood. Steiplman's script made the 2014 Black List, which is a high honor bestowed upon promising new scripts. Essentially, it's a list of the hottest projects in Hollywood that you haven't heard of. No word yet on whom else will star in the film alongside Natalie Portman in On the Basis of Sex, but the film is likely to bring the award-winning actress much more clout, in addition to perhaps being a personally rewarding project.
Portraying Ruth Bader Ginsburg will hardly be a task for the Black Swan star as she won't have to go far to draw inspiration for the role. Both Portman and the Supreme Court Justice are intelligent females—both Ivy League alums—who are also Jewish. Neither woman has ever denied her beliefs, which will likely give the Oscar winner a good foundation to build upon for the role, not that the role won't require any research or acting ability. Regardless, Portman is a skilled actor and should do just fine in her upcoming role, one that will undoubtedly earn more awards and recognition.
Your Daily Blend of Entertainment News