Why Pierce Brosnan Wears The Ugliest Suit Ever In The Thomas Crown Affair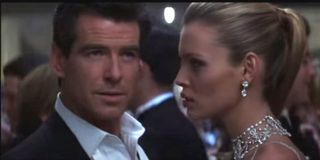 When Pierce Brosnan decided to star in a remake of The Thomas Crown Affair back in 1999, he was taking a time-off from his duties as James Bond. But it turns out that even though he was merely having a rest from the beloved spy franchise, 007 still had an influence over any other movie he starred in - which included the choice of attire for his character in The Thomas Crown Affair.
When Pierce Brosnan signed up to play James Bond ahead of 1995's Goldeneye, the Irish actor gave away his rights to "wear a tuxedo in any other film". Unfortunately for The Thomas Crown Affair, this meant that there was a slight problem. Partway through John McTiernan's heist drama, Pierce Brosnan's Thomas Crown attends a rather fancy soiree that is a "black and white ball." Because of his contract with James Bond, Pierce Brosnan wasn't able to wear a fancy bow-tie and suit that would have really brought out his eyes and shown the world just how devilishly handsome he was. According to The Suits Of James Bond, Brosnan was forced to wear his shirt unbuttoned at the collar in order for it not to be confused with a formal black tie outfit. On top of that, Pierce Brosnan was also forced to wear a white bow tie too--and he wasn't even allowed to tie around his neck! Instead, he had to drape it through the collar and leave it untied.
Because of these slight alterations, Pierce Brosnan was able to get away with not being told off by his James Bond bosses. But it kind of ruined The Thomas Crown Affair scene in question. I'm no fashionista, but surely Thomas Crown shouldn't have even been allowed to attend the soiree looking in such disarray. The people around him can clearly be seen to have made a tremendous effort in their attire, as they've all dressed to impress. Pierce Brosnan just looks like a drunken hobo stood next to them though. Okay - he would still clearly be an incredibly handsome drunken hobo, but my point still stands. He then goes and makes an even bigger fool of himself by seductively dancing with Rene Russo's Catherine Banning at the event too.
While I'm all for public displays of affection, surely a world-class thief like Thomas Crown shouldn't be so gallantly flouting the dress-code of an event and then basically dry humping a woman in the middle of the dance floor if he wants to remain incognito, right? I suppose the fact that he was able to steal a Monet painting from the Metropolitan Museum of Art in broad daylight proves that he knows exactly what he's doing. I wouldn't try to copy his efforts though, because I'm pretty sure that if any regular Joe tried to replicate his antics at a black and white ball then they'd be immediately tossed out on their ear.
Your Daily Blend of Entertainment News
Your Daily Blend of Entertainment News
Thank you for signing up to CinemaBlend. You will receive a verification email shortly.
There was a problem. Please refresh the page and try again.