The Wire's Michael K. Williams Will Play Ol' Dirty Bastard In Biopic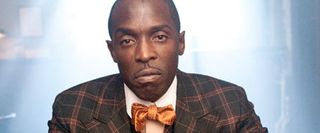 With a life riddled by scandals, Wu-Tang Clan member Ol' Dirty Bastard seemed destined to be the subject of a biopic. And now Deadline announces Parts & Labor and Ocean Size Pictures are teaming up to bring ODB's story to the big screen with the drama Dirty White Boy, and have secured Michael K. Williams (The Wire, Boardwalk Empire) to star as the rapper, born Russell Jones.
Notably, this is not the biopic RZA spoke of last fall, which reportedly had Tracy Morgan and Eddie Griffin fighting for the lead. That untitled picture was penned by ODB's cousin Raeshawn; conversely, Dirty White Boy was written by Brent Hoff and rather than encompassing the whole of ODB's life will follow his rise and fall through the eyes of Jarred Weisfed, the VH1-intern-turned-manager who served as witness to OBD's highs and lows up until his death in 2004. Though not penned by a family member, Dirty White Boy has won the approval of Cherry Jones, mother of Ol' Dirty Bastard. The statement from Parts & Labor producing duo Lars Knudsen and Jay Van Hoy makes clear why:
The film will serve as the directorial debut of established cinematography Joaquin Baca-Asay, who has lensed such eye-catching efforts as Roger Dodger, Super Troopers and Two Lovers. He branched out into directing through commercials and music videos, helming the MTV Video Award-winning vid for Jay Z's 99 Problems. In short, he has displayed a skill for visual storytelling, and so could prove a brilliant choice for this biopic. Of course, he will be aided by an incredibly talented leading man. And now we're left to ponder on who will play Weisfeld, our window to the world of ODB…
Your Daily Blend of Entertainment News
Staff writer at CinemaBlend.