Wrath Of The Titans Makes $1 Million From Midnight Screenings, But Hunger Games Will Beat It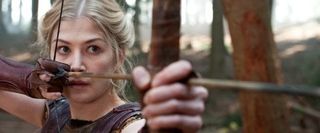 No one is expecting Wrath of the Titans to dominate the box office this weekend. Though it's the sequel to Clash of the Titans, which opened at #1 in April of 2010, and it's the only 3D film opening in wide release this weekend, Wrath is being thoroughly overshadowed by The Hunger Games, which broke a bunch of box office records with its $153 million opening last weekend, and will easily win the weekend again. At the same time, Wrath of the Titans hasn't performed too badly for itself so far-- according to numbers at THR, Wrath earned $1 million from midnight showings at 1,480 theaters last night.
It's not on track to equal Clash's $61 million opening, but it should earn between $35 and $40 million, aided both by 3D and the IMAX screens relinquished by The Hunger Games after its one-week IMAX run. The week's other big new release, Mirror Mirror, is set for a comparatively small $22 to $25 million opening-- the movie cost $80 million to make, but production and distribution company Relativity says they only shouldered $30 million of that, which means they may still turn a profit.
We'll be back tomorrow with a box office report on how all these new films are faring against each other. Let us know what you'll be seeing this weekend in the comments below.
Staff Writer at CinemaBlend
Your Daily Blend of Entertainment News
Thank you for signing up to CinemaBlend. You will receive a verification email shortly.
There was a problem. Please refresh the page and try again.