Yet Another Pablo Escobar Biopic Gets Started At Relativity Media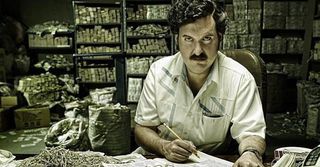 Pablo Escobar isn't quite as big a name as Abraham Lincoln or Howard Hughes or John F. Kennedy, but based on how many people have attempted to make a biopic about him over the years, he might as well be. Back in 2007 it was going to be Javier Bardem playing Colombian drug kingpin and Christian Bale as the DEA Agent on his tail, with Joe Carnahan directing. Then it was Lincoln Lawyer director Brad Furman in talks for an Escobar biopic called "the Latino Godfather." Just last year Benicio del Toro was planning to play Escobar in a supporting role in a film called Paradise Lost-- not quite a biopic, but the closest Escobar's story had come to the screen in recent years.
Now, finally, the proper Escobar biopic may be happening, with Relativity Media committing to Silver or Lead, a screenplay by Piers Ashworth about the battle between the powerful Escobar and General Hugo Martinez, who refused Escobar's bribes and led the manhunt that eventually killed him. Here's the official log line as included in the press release:
The title Silver or Lead was supposedly one of Escobar's favorite catchphrases-- accept his silver bribe or his lead bullets-- and suggests the authenticity the film gets from the research in Simon Strong's book Whitewash: Pablo Escobar and the Cocaine Wars, which Relativity also acquired. They've also got the life rights for Martinez and Joe Toft, the American head of the DEA who helped lead the manhunt. There's no mention of life rights for Escobar, but given how much material is out there about him and the fact that he's a dead drug trafficker, they probably didn't want to be cooperating with that estate anyway.
Enrique Urbizu, who made the Spanish crime thriller No Rest for the Wicked, will be directing, but there's no word on who might join the cast. It's probably not too late for Javier Bardem to take over the role, or even for Benicio del Toro to hang on to his Escobar impression and hop on over to this film. Or should they option it out to someone different, and also capable of reviving the terrifying kingpin? Let us know if you've got anyone in mind in the comments.
Staff Writer at CinemaBlend
Your Daily Blend of Entertainment News
Thank you for signing up to CinemaBlend. You will receive a verification email shortly.
There was a problem. Please refresh the page and try again.