Zoe Kazan And New Girl's Jake Johnson To Star In The Pretty One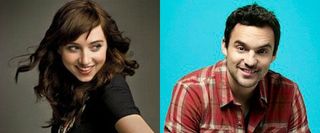 Since appearing in No Strings Attached, Jake Johnson seems to be popping up all over the place lately. In addition to a starring role on Fox's New Girl, he also lent his voice to the short-lived Fox animated comedy Allen Gregory and appeared in 21 Jump Street. He'll also be seen along with Kristen Bell and Aubrey Plaza in the upcoming feature Safety Not Guaranteed. The Colin Trevorrow directed comedy arrives in theaters this June, by which time Johnson will have already moved on to another big screen venture.
According to Deadline, Johnson and Meek's Cutoff's Zoe Kazan have both signed on to star in The Pretty One, a film based on a Black List script by Jenee LaMarque, who will also be directing the movie. The story is described as "an offbeat comedy about an awkward but lovable young woman who is mistaken for her dead "perfect" identical twin, and seizes the chance to masquerade as her sister." She apparently falls for her sister's neighbor, which complicates her situation and the lie she's leading. Deadline doesn't confirm directly that Kazan and Johnson will play the twin and neighbor respectively, but it may be safe to assume that.
In addition to Meek's Cutoff, Kazan has a handful of episodes of Bored to Death among her recent credits, and she's also among the cast of the Joss Whedon penned In Your Eyes.
Your Daily Blend of Entertainment News
Thank you for signing up to CinemaBlend. You will receive a verification email shortly.
There was a problem. Please refresh the page and try again.