The Legal Issues Leonardo DiCaprio's Still Facing Over The Wolf Of Wall Street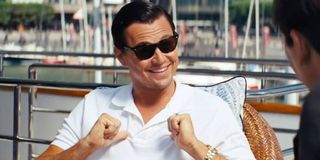 Having finally secured his first ever Oscar for his performance in The Revenant, you'd have thought that all would now be rosy in the world of Leonardo DiCaprio. But there's a legal problem regarding The Wolf Of Wall Street that continues to bother him. In fact, the issue is still so fervent that Andrew Greene, the man who is trying to sue Leonardo DiCaprio over the biopic, has now asked a judge to order the actor to sit down at a deposition.
TMZ have alleged that Greene has now filed legal documents requesting that Leo has to turn up to a round of questioning. Leonardo DiCaprio has been so busy over the last few years that his lawyers haven't been able to find a hole in his schedule to hear the complaints made against him. Instead, he has repeatedly offered another witness to hear these questions, who is believed to be an executive from Leonardo DiCaprio's production company Appian Way Productions.
Martin Scorsese, who directed The Wolf Of Wall Street, as well as screenwriter Terrence Winter, who wrote it, have already been deposed by Andrew Greene's lawyers. But now they're after Leonardo DiCaprio, and Greene and his team will head to court to bring up and push the matter on Thursday. They're even willing to make it easy for Leo by traveling all the way to Los Angeles to sit down with him.
Andrew Greene is trying to sue Leonardo DiCaprio, Martin Scorsese, and Paramount because he insists that the character Nicky "Rugrat" Koskoff, who is played by P.J. Byrne in The Wolf Of Wall Street, is eerily similar to him. Andrew Greene wants $50 million in damages because of his likeness to the character.
In court papers that were filed back in November 2015, Andrew Greene insisted (via the NY Daily News) that the character was a "criminal, drug user, degenerate, depraved, and devoid of any morals or ethics." But why is Andrew Greene so insistent that Nicky Koskoff is based upon him? Well, like P.J. Byrne's character, Andrew Greene worked at the infamously debauched Stratton Oakmont brokerage firm, the creation and antics of which were depicted in The Wolf Of Wall Street.
Alex Greene also attended law school and wore a toupee during his time on the board of directors at Stratton Oakmont through the 1990s. In Jordan Belfort's memoir, which Martin Scorsese's film is based on, Greene is repeatedly referred to by his nickname "Wigwam" while there are several jokes about his fake hair, too. Greene's main issue is that he was never implicated in the money laundering crimes that "Rugrat" is arrested for in The Wolf Of Wall Street, which has led to the defamation of his character in real life. Paramount insists that's not the case, saying that the character is actually a hodgepodge of numerous people for Belfort's book.
A Long Island Federal Judge disagreed with this assessment, though, coming to the conclusion that people that knew Andrew Greene were likely to see the similarities between him and the character. But in order for the case to finally be resolved, Greene and his lawyers need to finally sit down with Leonardo DiCaprio, something that's still not on the horizon.
Your Daily Blend of Entertainment News
Thank you for signing up to CinemaBlend. You will receive a verification email shortly.
There was a problem. Please refresh the page and try again.