4 Lessons From Finding Dory Pixar Should Learn For Future Sequels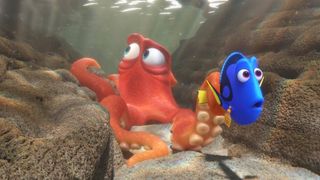 As the summer season swims along, Pixar's Finding Dory is proving that it's safe to go back into the water, if you are a forgetful blue tang with family issues. While rival summer blockbusters are coming up short, the Pixar sequel keeps dominating at the box office, sailing past the $500 million mark globally and quickly climbing the ranks of all-time Pixar hits. In time, it's expected to pass Toy Story 3 as the highest-grossing Pixar film in the U.S. Pretty impressive.
Seeing as how Finding Dory is poised to kick off a string of sequels from Pixar, which will include Cars 3 and Toy Story 4, we wanted to step back and see what the animation giant could learn from the unheralded success of this new film, as well as reflect on previous Pixar sequels that might have mis-stepped on their long journey to the big screen. Finding Dory is a smash. What can it teach Pixar about sequels, and what we actually like about them?
There's No Such Thing As 'Too Much Time Has Passed'
Animated films take a very long time. So Pixar can't be cranking out new movies with the frequency of a live-action franchise. Finding Nemo, the movie that introduced Dory (Ellen DeGeneres) to audiences, came out in 2003. Most of the kids enjoying Finding Dory today were just twinkles in the eyes of current parents back then. But that's kind of the point. Even though the sequel arrives 13 years after the original movie -- light years in Hollywood speak -- Dory now has the ability to appeal to an older generation who now have families of their own, as well as a new generation who don't know Nemo and Marlin, but are excited to get to know a fresh cast of fish. I'm sure a huge chunk of the audience for Finding Dory is made up of moms and dads who were single when Nemo opened, and who now are rekindling their passion for Pixar by bringing their own kids to the theaters years later. Know what this means? Bring on A Bug's Life 2!
We Love Meeting New Characters, On One Condition
This is where Finding Dory soars... and other Pixar sequels have faltered, ever so slightly. By shifting its focus to Dory (Ellen DeGeneres), and her quest to find the family she suddenly remembers, Finding Dory opened up this familiar world to a whole cast of new characters, and it sounds like audience members really appreciated spending time with the new gang. Hank the octopus, voiced by Modern Family patriarch Ed O'Neill, received a number of raves in the largely positive Dory reviews, while there's already talk of finding ways to spinoff new stories with Destiny (Kaitlin Olsen) and Bailey (Ty Burrell), friends Dory makes at the Marine Life Institute. And that's the point. Pixar's sequels shine when they introduce clever, emotionally rich new characters to these familiar animated worlds. Think of Jessie the Cowgirl from Toy Story 2, or even the new kid Bonnie in Toy Story 3. But we don't always LOVE the new characters, like the spies from Cars 2, or the mean dean of students from Monsters University. Finding that balance, and creating beloved new characters, can be hard, but Pixar can learn that when they get it right, it really helps the sequel to shine.
Find A Nugget Of Personal Trivia In Your First Movie, And Explore It
In Finding Nemo, Dory mentions that her short-term memory loss runs in her family. It's a throwaway line. But once realized, it becomes a perfectly logical avenue to set up a sequel, practically ensuring that the second (or third, or fourth) story won't regurgitate material already covered in the first movie. Part of what makes these Pixar films so iconic is that the studio comes up with original characters that we want to get to know better. Our collective love for Woody (Tom Hanks) and Buzz (Tim Allen) grows every time we're able to return to that toy box and learn more insight into their animated intricacies, be it Woody's insecurities -- which fuelled Toy Story 2 -- or Buzz's blind ego. It's not nearly enough to spend more time with these characters, the way we got more time with Mike and Sully in Monsters U. We want to unwrap more about the emotional details about these characters, so combing over your original film to find a nugget of personal information that's worth exploring can only strengthen your next story. It's my hope that Brad Bird found some new insights into the Parr family, and that's why he finally agreed to The Incredibles 2. We shall see.
Try To Avoid Family Competition When Picking A Release Date
This one seems hard to do, but with studios carving out release dates so far in advance, it can be a little simpler to map out your game plan and avoid family-film competition. One reason why Finding Dory has been able to clean up at the box office is because, for weeks, there has been a stunning lack of family competition from competing studios. The last clear-cut family-geared film to hit theaters before Dory was The Angry Birds Movie, which was released on May 20. Families, with their kids out of school for the summer, were starving for a diversion at the multiplex, and Dory delivered. It had no competition until The BFG dropped... two weeks after Dory had a solid run at the movies. Dory will continue to compete, what with The Secret Life of Pets on the horizon. But in terms of having a solid window all to itself, Pixar found a great slot for Finding Dory. And if Pixar can do the same with future sequels (not already dated), they have a better chance of replicating the recent successes of Finding Dory.
Your Daily Blend of Entertainment News
Sean O'Connell is a journalist and CinemaBlend's Managing Editor. He's frequently found on Twitter at @Sean_OConnell. ReelBlend cohost. A movie junkie who's Infatuated with comic-book films. Helped get the Snyder Cut released, then wrote a book about it.