Why Pixar's Next Few Movies Have Us A Little Concerned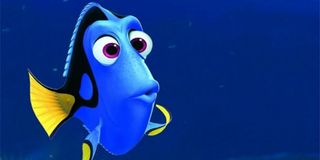 Finding Dory was undeniably a delight. But while reacquainting with the world's most famous regal blue tang, the least funny clown fish to ever swim, and a grown-up Nemo was enjoyable and fun and even touching, it still lacked the vibrancy and originality of its predecessor. Don't get me wrong, it was a worthy follow-up. But it was more of a catch-up than a renaissance, and the fact that Pixar's upcoming slate is full of sequels has me worried that rather than treading on new ground in a bold and ingenious fashion, the studio has instead opted for the safer and more profitable route.
While nowhere near as blatant, Finding Dory mirrored the approach of Star Wars: The Force Awakens by tipping its cap to its predecessor in a manner that immediately robbed it of some of its own individuality. But, unlike The Force Awakens, rather than paying its dues to the past, causing chaos, and then moving the narrative forward, Dory instead looked to provide everyone, especially its titular fish, with a unsettlingly neat and tidy ending.
Even some of Dory's scenes were too reminiscent to those in Nemo. The jaunty journey through the ocean with Crush, the escape from the predatory giant squid in the dark depths of the ocean, and the territorial sea lions Rudder and Fluke's squawks to poor old Gerald each felt like the re-telling of a funny joke, which while still amusing you hope you'll now never hear again.Most worryingly of all, Finding Dory's sentimentality also felt like a box being ticked rather than an organic addition. Sure, it did the job by making me weep, but it felt more mawkish and heavy-handed than either the beginning to Up or what happened to Bing Bong in Inside Out, which it's still too soon to talk about.
Obviously, the fact that Finding Dory smashed box office records in the last few days, grossing $135.1 million domestically to set the record for the highest opening weekend for an animated film, proves that audiences have a desire to see sequels to the studio's most popular films. Which is good, because three out of Pixar's next four films between 2017 and 2019 are Cars 3, Toy Story 4, and The Incredibles 2.
Maybe I am over-reacting though. Let's not forget that next November we'll get to see Coco, which is inspired by the Mexican holiday the Day Of The Dead and comes from Toy Story 3's Lee Unkrich; a concoction that suggests it should flourish. Plus in the year before Finding Dory swam into cinemas we'd been privy to Inside Out and The Good Dinosaur, both of which were original content from the studio.
The disparate success of these films at the box office is actually the prime piece of evidence for why Pixar are now turning to sequels. While Inside Out was both a critical and financial success -- scoring 98% on Rotten Tomatoes and going on to gross $857.4 million -- The Good Dinosaur was a huge disappointment, as it was met with middling reviews and took in Pixar's lowest box office sum to date with $331.9 million.
But while it's now widely agreed that the Toy Story trilogy is the greatest to ever be committed to celluloid and it's impossible to agree upon which installment is better, Cars 2, Monsters University, and now Finding Dory have each failed to usurp their forefathers as the dominant entry into their burgeoning franchises. I'm now worried that their future films will do the same, especially since Pixar have previously admitted to green-light them to tap into audiences' desire for sequels.
Obviously, because it's Pixar, I'm well aware that the studio will instantly erase these worries as soon as trailers for Cars 3, The Incredibles 2, and Toy Story 4 are released. But the films themselves will only prosper if, like the latter's sequels, they use the past to springboard into the future, rather than trying to remind us of what made the original's so popular in the first place.
Your Daily Blend of Entertainment News